A New Era of Accountability in DC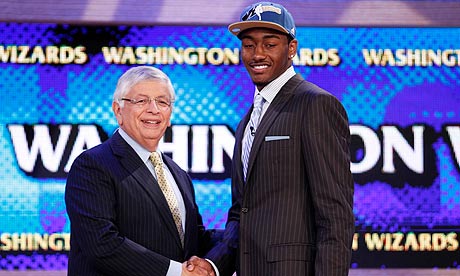 Madison Square Garden, New York, NY - For Wizards fans, the future officially began Thursday night at the most famous arena in the world. The biggest non-secret secret became reality when David Stern announced, "with the first pick in the 2010 NBA draft, the Washington Wizards select, John Wall".

The only real surprise to me was the amount of fans this 19 year old has everywhere he goes. To be rooted for the way he was last night in a city notorious for booing anybody who is not going to play in New York was a blast to witness.


As Dan Steinberg ever so eloquently stated to me afterwards, there is no other place you could host the NBA draft and get the type of crowd that you do in New York. He followed up by asking me if I could imagine what the draft would be like if it was in DC. It was midnight so I wasn't thinking too fast but remember when...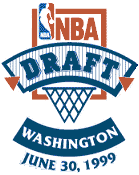 The 1999 draft was actually the 2nd to last draft to be held outside of New York, followed by the 2000 draft at the Target Center in Minnesota before moving back to Madison Square Garden where….you guessed it in 2001 the Washington Wizards selected:




Speaking of Kwame, in the five minutes leading up to the Wizards selection of John Wall, the NBA or should I say, ESPN thought it would be nice to remind Wizards fans of our last #1 pick so they ran a highlight package of Brown in Washington.



Good news, Kwame, you're off the hook, Washington has officially moved on and the guy who let you off hasn't even played a game yet.

Back to Wall…

It's hard to think back to a time when our hometown Wizards have ever had somebody with this type of personality, swagger, confidence and cult following. To be honest, in my lifetime, I can't think of anyone that has ever donned a Bullets or Wizards jersey who had this much hype about them.

Sure we've had Moses, Bernard, Chris Webber, but we didn't draft them, they were never really our guys. Of course we had Gilbert when he was dropping daggers a few years back, but he was already 3 years into his NBA career before he tossed that coin to come join the post MJ era.
When Wall was announced, the crowd at the WAMU Theatre inside the Mecca of Basketball, went crazy, all screaming for a chance to say something to him, grab an autograph or attempting to get him to do his famous dance. And how did Wall handle all the hoopla and commotion? With that genuine smile and confidence that he has displayed since this entire process started a little more than a month ago.





HT to BulletsForever who had some phenomenal seats to witness the madness

Through the course of the night I heard a couple of colleagues say that the person with the most character was Evan Turner but I beg to differ. See, maybe for one evening Turner had some good quotes and a impressed some folks but I look at character as a little bit more than putting on a show for one night.

John Wall defines character to me.

Here you have a kid who for all intents and purposes has overcome losing his father to cancer, got cut from his sophomore basketball team, had the reins put upon him to revive one of the fan crazy college basketball programs in the country and he stepped up to each challenge every time.
Now he is being tasked with reviving a franchise that is coming off two of the worst seasons in franchise history when you combine the records with expectations.
Wall's response? "This is what I've always wanted". In other words, he is telling us, bring it on, I will succeed and for those who don't believe just wait and see. For a Wizards fan, how could you ask for much more?

Around DC we all know about swagger, well at least we were told what swagger was a few years back by Gilbert Arenas and DeShawn Stevenson



Unfortunately we found out a few short years later, it was all a mirage. When asked to be the leader, our best player at the time deflected and said that was not his personality, a position he has since changed.

Wall apparently doesn't want or need the extra time to prepare to lead this team.



Chris Miller with John Post Draft


You can also listen to this grounded young man courtesy of Grant Paulsen from WJFK who went on the LaVar and Dukes show right before the draft.


Remember what Ted Leonsis said at his introductory press conference, recalling what Red Auerbach told him, "your highest paid player must be your best player and the most coachable".

So, how lucky are we to now have a Franchise PG who has not even reached his 20th birthday and is begging to be that face of the franchise.

He won't even be the highest paid player, not by a long shot, figuring to make close to 16 million over the next 3 years, just about what Arenas will make next year alone.

I would say we are pretty damn lucky to have won out on a 10% chance to change a losing culture.

I would say we are even luckier to now have in place an owner who has no care for simply making the playoffs, referring to that as a "sugar buzz" in a recent exclusive with Wizards Extreme. Combine these two winners and now maybe you can start to understand why Washington Wizards fans woke up this morning with a sense of relief and hope.
HT – Truth About It for the picture

The easy part is over, we drafted the prodigy, now it's time to get to work and see if this kid can deliver on the enormous expectations that come with being the number one pick in the draft.

Don't worry though, no pressure John.

Not only does he have to make us all forget about Kwame Brown, but he must also prove to the skeptics that a 6'4 PG can indeed change the fortunes of a franchise and that you can pin your hopes on a teenager to reverse a curse.

How about a few more items that should make John feel right at home with no worries?

Flip Saunders has told us a few times in press conferences that he believes point guards are made in heaven, and reminded us today, "John was sent from heaven". Add that to Steve Buckhantz' comment about welcome to Wall Street and the fact that Mayor Fenty declared today, June 25, 2010 as John Wall Day and Wall must have felt like a king, or a target.

As Tracee Hamilton of the Washington Post and I were noticing, the way the Wizards have gone about this whole approach is the complete polar opposite of the way the Nats handled Strasburg.

Dan Steinberg also had this take from his twitter:

Hundreds of people on F street waiting on wall's arrival. Red carpet. John Wall Dancers. Limos.Cheerleaders. They did this for kwame, right?

No we didn't have a Kwame Day in DC, if you don't count the day he was traded for Caron Butler that is.

But it would seem that Wall is not only fine with it, it's what he wants.

John has asked for it and now he's got it and what welcome reliefs to those of us who have been around for some time to see somebody in this organization point the finger at himself and say follow me, I can lead us where we want to go.

I'm all in, but @jimmywa11, you still can't have #11.

Ernie and Flip Introduce John



John Wall Part I



John Wall Part II



John Wall Part III



WElcome to DC John Wall