The Wizards hosted 6 players for a pre-draft invite at the Verizon Center. There is no telling if these guys will be Wizards in the near future but only time will tell.
The 6 players who participated today were (courtesy of the Washington Wizards Press Release):

Damian Hollis, F, George Washington, 6'8, 215 lbs.
* Averaged 13.9 points and 4.9 rebounds during his senior season at George Washington.
* Scored a career-high 30 points vs. VCU (3/16).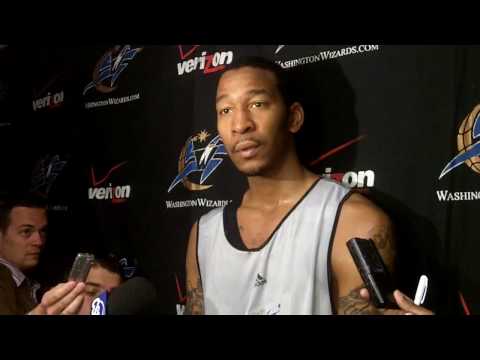 Dominique Jones, G, South Florida, 6'4, 205 lbs.

* Averaged 21.4 points, 6.1 rebounds and 3.6 assists during his junior season (09-10) at South Florida.
* Scored a career-high 46 points at Providence (1/23), which ranks as the second-most points scored in a regular season game by a Big East player.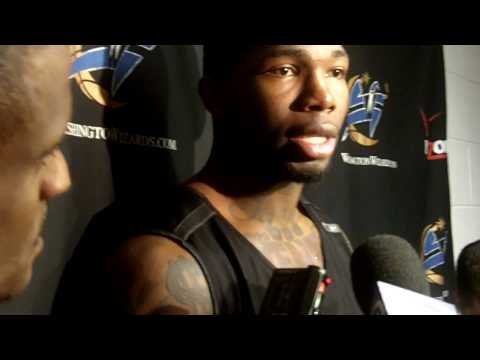 Landon Milbourne, F, Maryland, 6'7 205 lbs.
* Averaged 12.7 points and 4.9 rebounds during his senior season at Maryland.
* Finished second in scoring for the Terrapins during the 2009-10 season.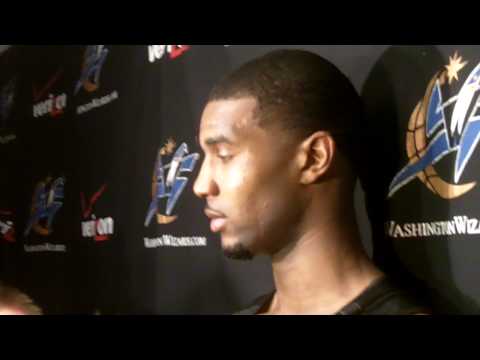 Hamady N'Diaye, C, Rutgers, 6'11, 235 lbs.
* Averaged 9.4 points and 7.1 rebounds during his senior season at Rutgers.
* Ranked fourth in the NCAA during the 2009-10 season with 4.5 blocks per game.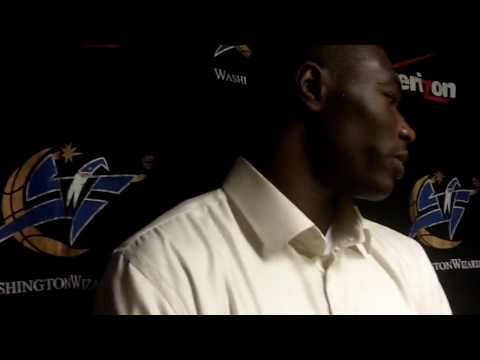 Omar Samhan, C, St. Mary's, 6'11, 265 lbs.

* Averaged 21.3 points, 10.9 rebounds and 2.9 blocks per game during his senior season at St. Mary's.
* Was named 2010 West Coast Conference Defensive Player of the Year and named to the 2010 All-WCC First Team.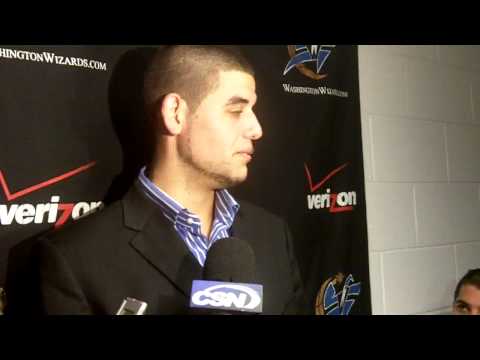 Donald Sloan, G, Texas A&M, 6'3, 205 lbs.

* Averaged 17.8 points and 3.6 rebounds during his senior season at Texas A&M.
* Was named to the 2009-10 All-Big 12 First Team.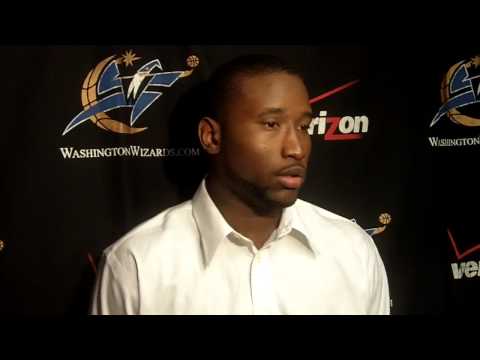 Random Thoughts
Omar Samhan is a hilarious guy; he was talking to everyone as if he knew us for 10 years or so. He actually shook every one of the media's hands after concluding the interview with us (the media). I learned that he's on his way to getting his Sports Journalism degree (actually next weekend at St. Mary's) which explains why he was so talkative. He understands the media and player relationship. He was very social and even went to say that he "slept like a bear." Funny guy!
George Washington's very own Damian Hollis, who took the train to come down to the Verizon Center, talked about how he didn't get much sleep. He is also graduating this year at the University of George Washington. He looked like he had an NBA body and the Wizards were the only team he had a workout planned so far. Hopefully he gets more opportunities and more scouts to look at him. He could be one of those local sleepers.
Another local product, Maryland's Landon Milbourne was on hand to showcase his skills. The 6-7 SG/SF Milbourne can play the two or three in the NBA. Not sure what his chances are on getting drafted. Couple of years back, I thought Georgetown Hoyas guards Jonathon Wallace and Tyler Crawford should have been drafted, so you never know what the scouts are thinking these days. Jonathon Wallace could have come in and played the Princeton offense that Coach Eddie Jordan was running at the time when he was the coach here in Washington.
The best player of the bunch in my opinion (well a tossup between him and Omar Samhan actually) was University South Florida's Dominique Jones. He was no stranger to the Verizon Center, as he was the star who scored 22 of his 29 points in the 2nd half of the game that stunned, at the time, #7 Georgetown Hoyas. Not to mention, they beat national champs, Duke University the game before the Georgetown game. He is a 6-4 shooting guard who said the one thing he had to work on was his point guard skills since it looks like that's what he will play in the NBA. His size is what concerns scouts but with everything he has, he is projected by some scouts as a late lottery/1st round pick.
So far for these players, they will meet many, and I mean MANY people that want to get into their heads. These guys showed great poise and pretty good interview skills, especially Mr. Samhan. Come Tuesday, the Wizards can only hope for a lucky ball to give them a top 3 pick for the NBA Draft lottery Ball Selection. Obviously, none of these guys today were top 5 picks or even possibly a lottery pick except for Dominique Jones, but getting Omar Samhan in the 2nd round would not be a bad idea at all. The Wizards could even selecting Dominique Jones later in the 1st round if Wizards somehow trade up from the 2nd or trade back in the 1st. Or hell, the Wizards may never see these guys ever again unless they play them. Too many questions, and not enough answers. Tuesday is the stepping stone to getting those answers to our questions.