In less than 12 hours the Washington Wizards will put the final stamp on their 2009-2010 NBA season. As far as games go, the season ended April 14th with the Wizards doing themselves no favors by winning their final game of the season against the Indiana Pacers. Michael Lee pointed out this little tidbit in his season finale write-up, A Costly Victory:
"The victory may have hurt the Wizards' chances of a better spot in the draft lottery. Had the Wizards (26-56) lost to Indiana, they would've been tied with Sacramento for the third-worst record behind Minnesota and New Jersey. The win, coupled with a Golden State victory, meant that the Wizards finished tied for fourth."
A coin flip done two days later would have the worst possible scenario come to life as the Warriors ended up with the fourth slot for the lottery while Washington got bumped to fifth. This final loss on the year meant that Washington could end up with at worst the 8th pick in the 2010 NBA draft and now possesses only a 10.3% chance of winning the top pick.
For those who don't fully understand the Weighted Lottery System, here is a brief description of how it works from none other than the Internet Gospel of Wiki:
To determine the winner, fourteen ping pong balls numbered 1–14 are placed in a standard lottery machine and four balls are randomly selected from the lot. Just as in most traditional lotteries, the order in which the numbers are drawn is not important. That is, 1-2-3-4 is considered to be the same as 4-3-2-1. So although there is a total of 24 orders in which the balls numbered 1-2-3-4 can be picked, they are all treated as the same outcome. In doing this, the permutation of 4 balls from 14 becomes the combination of 4 balls from 14. That is, the total of 24,024 (14! / 10!, or 14×13x12×11) possible permutations is reduced by a factor of 24, to 1,001 combinations. Of these, 1 outcome is disregarded and 1,000 outcomes are distributed among the 14 non-playoff NBA teams. The combination 11-12-13-14 (in any order that those numbers are drawn) is not assigned and it is ignored if drawn; this has never occurred in practice.
There is no doubt that a lot of Washington basketball fans would like to bundle up all of these negatives from the past season and chalk it up to the dreaded Curse O' Les Boulez, or we could simply call it what it is. A long stretch of bad draft luck.
Dan Steinberg did a great job of recapping the Wizards lottery misfortunes over @dcsportsbog where he points out that the Wizards/Bullets have either failed to move up or have actually moved down in draft order in 12 of their 13 previous trips to the lottery.
The easy part of this to figure out is what we did get by not being able to move up each of those years:
1989: Tom Hammonds (9)
1991: LaBradford Smith (19) after trading the 8th pick to Denver for #19 and Michael Adams
1992: Tom Gugliotta (6)
1993: Calbert Cheaney (6)
1994: Juwan Howard (5)
1995: Rasheed Wallace (4)
1999: Richard Hamilton (7)
2000: Wizards pick was (7) but the Bulls picked here instead as part of the Chris Webber trade Makes that trade even better doesn't it?
2002: Jared Jeffires (11)
2003: Jarvis Hayes (10)
2004: Wizards pick was Devin Harris (5) and was used in the trade for Antawn Jamison and some cash.
2009: Wizards traded what was Ricky Rubio (5) for Mike Miller and Randy Foye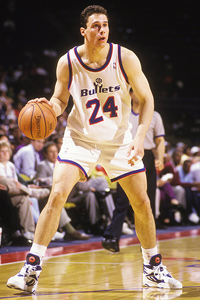 It is also easy to name some of the guys that Washington missed out on by not moving up. A simple sampling of All Star rosters over the past 20 years can give you all of that information.
But what about the guys that they missed on behind their slot in the drafts, some NBA All Stars such as: Mookie Blaylock, Tim Hardaway, Shawn Kemp, BJ Armstrong, Vlade Divac, Vin Baker, Allan Houston, Sam Cassell, Nick Van Exel, Eddie Jones, Kevin Garnett, Michael Finley, Shawn Marion, Ron Artest, Andrei Kirilenko, Manu, Pau Gasol, Joe Johnson, Zach Randolph, Gerald Wallace, Tony Parker, Gilbert Arenas, Mehmet Okur, Carlos Boozer, David West, Josh Howard or Mo Williams. And no you don't get credit for drafting a guy if he ends up on your team through a free agency.
That's more than 20+ players who at some point in their career reached All Star level in the NBA and in order to have success in pro sports you have to be successful in the draft. There is no way a team can be successful over a long period of time when you only hit on two out of thirteen chances to land a top ten player. Having said that we should also give credit where credit is due.
From the late 80s to mid 90s we had John Nash who oversaw some pretty horrible drafts and a gem of a trade that sent the 12th pick in 1996 to Cleveland in exchange for Mark Price. @TruthAboutIt outlines the effect of that trade with this subtle dagger:
…that 12th pick in 96 … Cleveland used it to select overpaid bust, Vitaly Potapenko. Who was taken 13th? None other than the 2008 MVP, Kobe Bryant. The likes of Peja Stojakovic (14), Steve Nash (15), Jermaine O'Neal (17), and Zydrunas Ilgauskas (20) followed. I just love hindsight….and coincidentally, Nash was forced to resign in April of '96.
We have more to thank John for, he also directed the trade that brought in Chris Webber at the cost of three lottery picks, #11 in '96, #13 in '98 and #7 in 2000. Obviously Chris had his bright moments here but can anybody really say that one playoff appearance was worth the chance at three top draft picks when all you were left with was a busted Mitch Richmond and Otis Thorpe? That was my quick shout out to the greatest Bullet of all time Wes Unseld, not so much the greatest GM.
Back to the current regime, you can judge Ernie on the past 6-7 years and the track record is well outlined by Mike Jones of @csnwashington in his most recent draft history article talking about the misses of the Grunfeld era. These included, Rajon Rondo, Sergio Rodriguez, Kyle Lowry, Aaron Brooks, Daequan Cook, Rudy Fernandez, Carl Landry, Glen Davis, Marc Gasol, Courtney Lee, George Hill, and Mario Chalmers to name a few.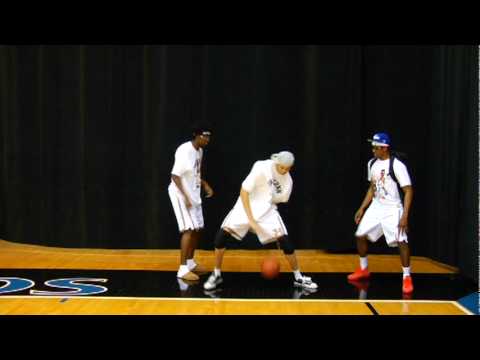 That being said, I believe we have to give Ernie a chance to prove himself with a brand new owner and under some drastically different circumstances. No more is the "big 3″, we now get to see if Ernie can build a franchise from the ground up, much like he has in previous stops.
Ernie freed up cap space from the Jamison, Butler and Haywood moves, picked up two rather large trade exceptions as my colleague Mike Prada from BulletsForever points out, and even got a first round pick back, albeit the 30th in the draft.
In Arenas, Grunfeld still has a 28 year old guard who was averaging nearly 23 points and 7 assists a game after a two year layoff and it'd be hard to argue that he wasn't starting to get his feet under him right before the whole fiasco in Philly. One can only hope but to see Gilbert mature much like some of the older guards around the league who figured out their full potential at later ages. We'd all love to see the return of some of this:
Ernie could potentially have Josh Howard back at a much cheaper cost than his 11 million dollar number to stay with Washington. Along with those guys the Wizards were able to develop some of their young players such as JaVale McGee, Andray Blatche and Nick Young towards the end of the season.
We'd all love to see the return of Shaun Livingston who looked to have re-energized his career with some wow moments in the last few months of the year like: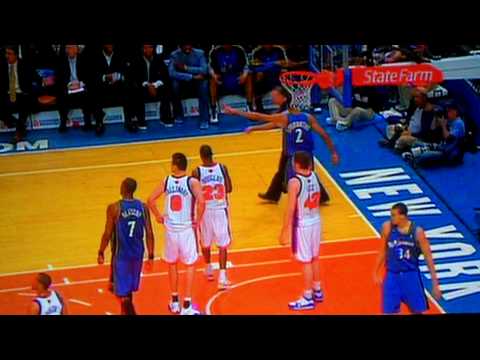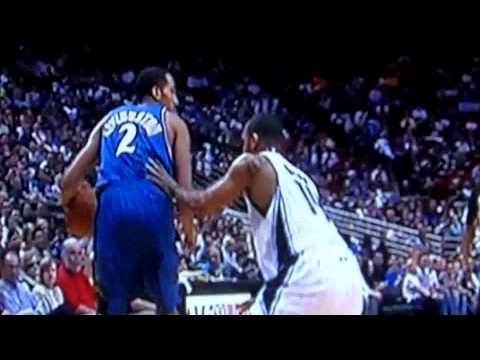 Now, to that team you add a John Wall, Evan Turner, Derrick Favors, DeMarcus Cousins, Wesley Johnson, Al Farouq Aminu, Cole Aldrich, Greg Monroe or any other player slated to go in the top 8.Your telling me that the same guy who got Gilbert to come here, the same GM who traded Kwame for Caron can't attract at least one valuable free agent with that roster and an owner like Ted Leonsis?
That leads us to the newest Wizard, Ted Leonsis who in my mind is the biggest piece to this puzzle. I've seen enough, I've read enough, I've heard enough to believe in Leonsis as an owner, especially considering he's been here the whole time, watching this franchise over the past 10+ years.
When you hear Ted talk you just believe, I really don't know another way to describe it. I believe Ernie will thrive in his role as a GM under Leonsis much the same way that George McPhee has for the Capitals.With the pressure of having to win now no longer really being the drive I think Ernie will be able to make better basketball decisions. In Leonsis we have an owner who believes in and values the draft and for those of you who love numbers, one who believes in basketball analytics as well.
The Wizards hope that Irene Pollin can bring a little luck to the 2010 NBA Draft Lottery, and isn't it fun as a fan to think of the possibility that Abe, through Irene could give us one last gift. I can only imagine the headlines if Irene was able to pull a rabbit out of the hat and get the Wizards to move up in the draft. Then again, I'm sure if we stay put or move back it will probably be blamed on the Pollins.
Regardless, Tuesday's NBA draft lottery will be the start of a new chapter for basketball in Washington, DC. We have an owner who doesn't believe in curses and lives by ideologies such as, "hard work, staying with it, and incremental improvement until you get it right."
The Wizards and the Ted Leonsis Era officially begins in Secaucus, NJ on May 18th, 2010 and if you've been around this city long enough to know what the Capitals used to be then you should have a pretty good feeling about where he believes he can take the Wizards.
Don't take my word for it, read it yourself. Or you can take him at his word.
Join us live tonight as we cover the NBA Draft Lottery with Comcast SportsNet and Brian Jackson.