Wizards Extreme – May 31st, 2010 – The Washington Wizards held a pre-draft workout for a few players on Memorial Day and the one guy who everybody apparently came to watch did not disappoint. Greivis Vasquez comes across as a fantastic kid who understands a lot more than just the game of basketball. In his interview after the workout he covered a wide range of topics including watching his first NBA game, getting his degree, what positions he feels like he could play in the league and even gave us a World Cup prediction (Italy for those wondering at home).
Before we get to that interview here are some highlights from the part of the workout that we were allowed to see.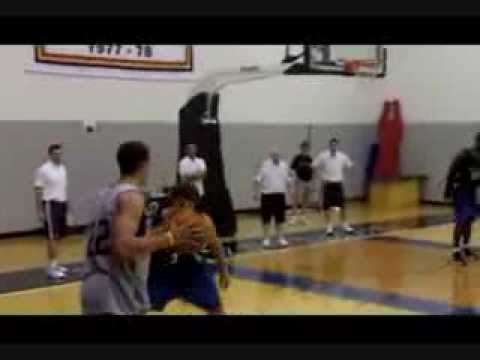 Also on hand:
Matt Bouldin, G, Gonzaga, 6'5, 224 lbs.
* Leaves Gonzaga ranked 6th all-time in school history in points scored (1,683), 5th in assists (444) and 4th in steals (170).
Derrick Caracter, F, UTEP, 6'9, 275 lbs.
* Averaged 14.1 points and 8.1 rebounds per game in 2009-10 to earn Second Team All-Conference USA honors.
Darington Hobson, G, New Mexico, 6'7, 205 lbs.
* Joined Ohio State's Evan Turner as the only two D-1 players to average 15+ points, 9+ rebounds and 4+ assists per game last season.
Raymar Morgan, F, Michigan State, 6'8 230 lbs.
* Averaged at least 10 points and five rebounds per game in all four seasons at Michigan State.
Jarvis Varnado, F, Mississippi State, 6'9, 230 lbs.
* Is the NCAA's all-time leader in blocked shots with 564.
Of these guys the two interviews that stood out to me besides Greivis would be Matt Bouldin and Jarvis Varnado. Bouldin was explaining to us that John Stockton is the smartest point guard ever, that Stockton is very accessible and noted that he can make a phone call to John at anytime.
Varnado was a bit more reserved and soft spoken. The comment that brought smiles to all the media in attendance was when he highlighted the fact that he is the greatest shot blocker of all time. Jarvis is not short on confidence but as we will all probably come to find out, he's going to need a lot of work on the offensive end of the court.
- Joe G
Thoughts from Asad (TFA):
Upon arriving at the practice facility, we were surprised to see Gilbert Arenas along with future Wizards Majority Owner, Ted Leonsis, and Wizards General Manager Ernie Grunfeld . Gilbert being there showed to me that Ernie and Gilbert have put whatever beef they had to rest. They were all together watching the pre draft practice for Greivis Vasquez and the guys listed above.
From the portion of practice I was able to see Greivis looked pretty good and his jump shot was on. Vasquez flashed some good plays and was very vocal on the court, encouraging teammates and congratulating the other players when they hit their shots.
If I could give out the Kendrick Perkins Award (the person who looks mad as hell) my vote would be for University of Gonzaga's Matt Bouldin. The 6`5 guard has a pretty big build when if you are going to compare your average point guard and he showed a nice little burst to go along with some good shooting and some really nice passes. Wherever he goes, his frame is going to give smaller guards some troubles.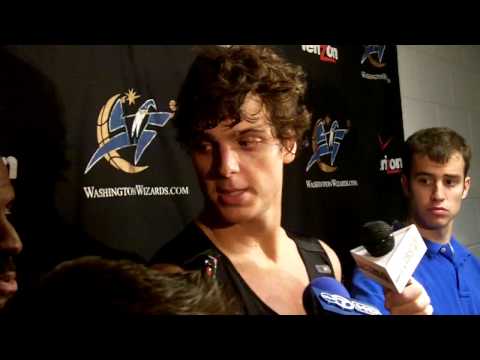 - Asad Naqvi
Here are our interviews with Greivis, and Raymar Morgan followed by Comcast SportsNet's Chris Miller:
Vasquez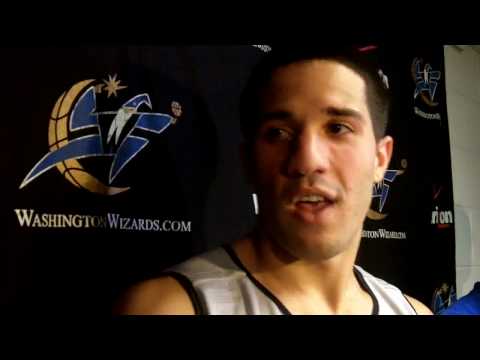 Morgan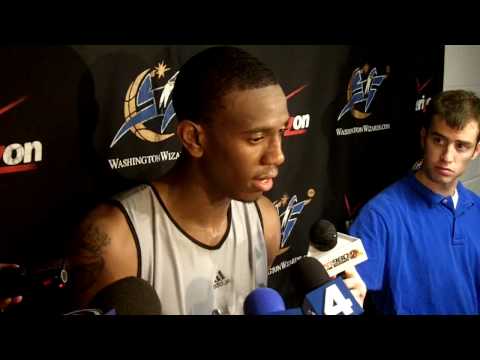 Comcast SportsNet