Wizards Training Camp Preview
2010-2011 Washington Wizards Training Camp Preview
WHO: 2010-2011 Washington Wizards
WHAT: Washington Wizards Training Camp
WHERE: George Mason University (Fairfax Campus) at the Patriot Center
WHEN: September 28th (Monday Night starts at 11pm and ends around 1pm)
WHY: To showcase Northern Virginia and everyone else the new and improved Washington Wizards.
As Monday Night Madness approches, the hype is in the air, as the Washington Wizards bless Fairfax, VA and George Mason University with their presence.  Training camp has been moved from its original location of Richmond via VCU (Virginia Commonwealth University) With the new leadership change, looks like this is an effect straight from Ted Leonsis's magic (maybe he is the Wizard of Washington).  He is changing this franchise slowly from a inconsitent winner to a winning franchise.  Sooner or later the Wizards will bring home a championship but it all starts this coming Monday night (September 28th).  As this is a totally different Wizards, not the one from the past.  You will not see Caron Butler, Brandon Haywood, Antawn Jamison, or even Peter John Ramos (kidding).  But what you will see is the new face of the franchise, John "Great Wall of Chinatown" Wall.  You will also see new faces and names that aren't so household.


Players such as rookies Trevor Booker, Hamady N`Diaye, French big man Kevin Seraphin will join this 2010-2010 new look Wizards team.  You cant forget free agents Hilton Armstrong, China's best player not named Yao Ming, Yi Jianlian, and former Bull and poster boy (litteraly) for the Wizards/Bulls rivalry, point guard/shooting guard Kirk Hinrich. 

Returning players consist of possibly the starting small forward, Al Thornton, along with Josh Howard, who is returning from major knee  surgery after breaking his ACL. The inconsistent Nick Young, freak of an athlete and starting Center JaVale McGee, the most improved player (in my opinion) Andray Blatche, and ofcourse the one and only Hibachi, Gilbert Arenas.
Nick Young told me that he was playing basketall over at the Verizon Center with most of his teammates.  He seemed really excited about this season and as he should be.  When you have a John Wall and a healthy Gilbert Arenas, you're chances of winning are great and the level of optimism is very high. Nick Young will be anticipated to bring more minutes and more of his shooting.  He is a young great talent that just needs to tap into it.  He has all the tools to be a great shooting guard.  His defense must get better and for this training camp, it will be interesting to see how he reacts with the new players on the court.
Mr. 1970's porn actor is now a Washington Wizard.  No not Burt Reynolds, but Adam Morrison!  Today, via @MrMichaelLee (Michael Lee from the Washington Post) has reported that the Wizards have invited Adam Morrison to camp.  He is now going to compete with the likes of Al Thornton/Josh Howard/Cartier Martin for the small forward spot.  He wont be starting but the former #3 pick will come in to sit on the bench most likely.  He has a nice jumper, but has so-so athleticism.  He has more rings then any player on this team.  He has more rings then i have gold fish.  He is this century's Robert Horry with out the minutes and last second game winning shots.  Should be interesting to see if he makes the squad.
Few things to look for is, Andray Blatche.  Who broke his foot while playing a pickup game this past summer, seems like he is back in the fold.  How his conditioning is, is yet to be determined.  Last season, Andray Blatche in my opinion should have been the most improved player in the NBA.  After the trades for Antawn Jamison, Caron Butler, and Brandon Haywood to their respective teams, Andray Blatche took the team on his back and lead the team in points per game and averaged a double-double the second half of the NBA season. I envision `Dray leading the NBA in double-doubles. I may be shining alot of positivity, but I saw something in Andray last year that I haven't ever seen in him.  I'll say it once and I'll say it again, confidence can go a long way and Blatche is proving me correct.
Should be interesting to see Yi Jianlian and see how he fits in this team.  He had a wonderful World Championships as he played for his country of China.  He shot the ball really well and was leading his team in all aspects of the game.  I asked Flip Saunders during the summer of what he thought about him playing small forward, and he told me that he would play the power forward role mostly.  He should come in and help out Andray when he taking a rest.  With Yi there, will Trevor Booker get any playing time?  Will Booker get more playing time then Yi if he plays well enough?
You can bet your life that the most watched players will be John Wall (the new face of the Franchise) and Gilbert Arenas (the old face of the Franchise).  Their chemistry will be key to this season's success.  If Wall and Arenas can play with each other, you will see an easy transition for everyone else to play their own game.  And also help players realize their roles in this offense. John Wall is the Quarterback of this offense and Gilbert will be his 'Wide Reciever' if you will.  Should be exciting times if everyone is healthy (knock on wood).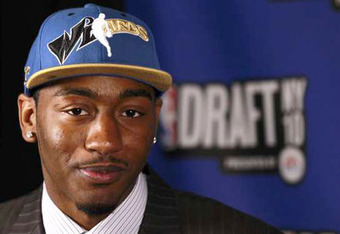 Projected Starting Lineup
PG John Wall
SG Gilbert Arenas
SF Al Thornton
PF Andray Blatche
C JaVale McGee

Projected 6th man: Josh Howard, if healthy can be a great 6th man.  He plays defense and could even start if he was healthy. They said he wont be ready to play until November so if that is the case, you will see someone like Nick Young come in and make his presence known off the bench.  Nick has the skills to play the two (shooting guard) or the three (small forward).  If Nick can get away from playing that "lazy" defense, then you will see an improved Nick Young.  Speaking of improved, Michael Lee of the Washington Post was reporting that Flip Saunders and his son went to the west coast to work out with Nick Young.  So Nick is on his grind and will hopefully make an impact.

Matchup's to look for

Al Thornton v.s Yi Jianlian v.s Josh Howard v.s Nick Young for the Small Forward position.

Al Thornton has the edge because of his agressiveness and the simple fact that he is the only healthy small forward between himself and Josh Howard.  Nick Young will be in play as a small forward this year since Gilbert and Wall will be in the back court. Al can step in and play the 4 (Power Forward) if he has too also.  He may not have the quickness to cover most three's but he can hustle and hit the small range jumpers.  He's underated on this team and he could make a huge impact.  Josh Howard would have had this spot if he was not injured.  He was the Wizards best defensive player but if he can come back to his old ways, he will take over that spot.  As of right now, it's Al Thornton's job to lose.  Yi is the new guy who is coming in and could make an impact but he is known to play soft.  His defense isnt great but he is long enough to make up for the lack of quickness that he obtains.

JaVale McGee v.s Hilton Armstrong for playing time and starting Center position

We all know that McGee is the human highlight film but as much as he is exciting to watch, it can be frustrating as well.  Now Hilton Armstrong may not be as athletic nor is he as flashy as JaVale but he has something JaVale needs, and that is fundlementals. Armstrong, who has played with a great point guard in Chris Paul, was a former lottery pick (12th pick) in 2006 when he was drafted by the New Orleans Hornets.  He is known to be athletic and strong but he has the same problem as JaVale McGee, he is not polished on the offensive side.  He has potential like McGee, but no where near the presence as McGee.  It will be interesting to see if Flip Saunders has patience for McGee this year.  He might have to be when it comes down to it.
Some names you havent heard of and you might soon

Everybody knows Gilbert Arenas, John Wall, and Andray Blatche, but what the average household wont know is someone like a Lester Hudson or Cartier Martin.  Cartier has something the Wizards like and that's a long range shot along with solid defense.  He could play shooting guard or small forward.  He would be the 2nd best three point shooter (behind Gilbert Arenas) if he makes the team.  Lester Hudson at one point was the 5th leading scorer of the NCAA a couple of years ago.  He was drafted by the Boston Celtics but was on the move and landed with the Wizards and their Summer League team.  He got an invitation after playing well in the shooting guard/point guard role.  He is a true definition of a tweener by only standing 6`3.  Both Lester and Cartier will have to prove alot and work hard on getting a  roster spot with the Washington Wizards. Washington Wizards also have invited NBA journey man Sean Marks along with Mardy Collins.
2010 Washington Wizards Roster

:
One of the best things about this training camp is that the media and fans dont have to travel to Richmond, VA to cover and watch the Washington Wizards.  It is truly all due to the newest owner of the Wizards, (my homie)  Ted Leonsis. I had the pleasure of meeting Ted Leonsis many times and he is truly a class act.  He is going to do what he did with the Capials and possibly do it better.  Wizards are a marketable team and there is no one better then Ted Leonsis himself to carry this team into a new realm of greatness!