Mystics Star Forward Set to Make Season Debut
Just as the Washington Mystics bring this dismal season to a close in the next week or so, BAM! Some positive news finally came out of the locker room.
Star forward Monique Currie was cleared by team doctors yesterday to return to the Mystics lineup tonight against the Atlanta Dream after missing the entire season with an ACL tear.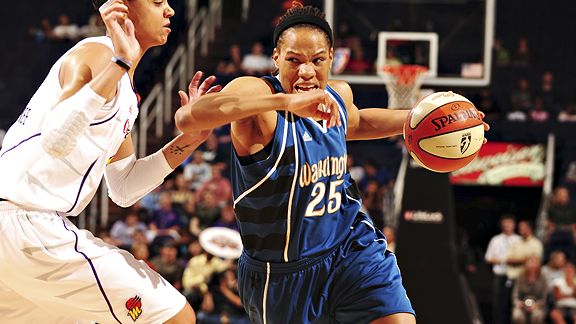 The news was a bit of a surprise for the Mystics, as they had expected Currie to miss the entire season. But instead, Currie will make her 2011 debut tonight and the Mystics hope she can shed some sort of light at the end of this dark, gloomy tunnel that has been the Mystics season.
At 5-24, the Lady Wiz sit in the cellar of the Eastern Conference and are losers of 9 straight.
Currie, who averaged 14.1 points and 4.8 rebounds last season, will be closely monitored by the Mystics' trainer. She will be in the lineup tonight, but will sit out tomorrow night's back-to-back game. However, coach Trudi Lacey expects Currie to return to the lineup for the remainder of the season.