Heavyweight Champ in the Making - Seth Mitchell
Every once in a while we'll step out of Wizards basketball world in order to bring you a story or an event that we feel deserves some attention.
This is one of those moments.
Meet Seth, "Mayhem" Mitchell.
If you are local sports fan who likes boxing but didn't get the chance to see Fox 5's David Ross do an interview with the Brandywine, MD native do yourself a favor and watch below.
Mitchell is an up and coming Heavyweight Hopeful, signed by Oscar De La Hoya's Golden Boy Promotions and he may also be the easiest person I've ever wanted to root for, no offense to my friend and UFC Heavyweight Champ Cain Velasquez.
We were first introduced to Seth by a good friend of Wizards Extreme, Lorin Chvotkin. When we met the guy they call Mayhem, Asad and I were amazed at not only how respectful and humble he was, but you could tell immediately that he was hungry and was already looking forward to his next fight, a fight he would go on to win by TKO.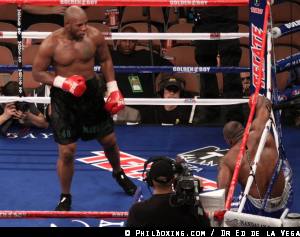 It's not every day that we get to see locals and by locals I mean persons born in the District, Maryland or Viriginia who make it big or who are climbing the ladder in their respective sports and then comeback to try and make a difference where they grew up.
Sugar Ray Leonard set the standard for being a local legend in boxing, but he was born in Wilmington, NC. Of course I'm not here to knock Sugar Ray, I loved him growing up, but this is more so to get you to pay attention to a potential game changer in the sport of boxing, especailly considering he's doing it in the Heavyweight division.
Seth is one of those people, one of those athletes who simply "gets it".
A quick story about Seth....
In the brief two hours we sat down with Mitchell and Chvotkin, I had the chance to mention to Seth that there was a potential opportunity with a company called MicroTech to go and visit with wounded soldiers at local military hospital. Before I could even finish the sentence or tell him when and where the visit would happen, Seth was already asking me what he needed to do in order to be there.
So, with only weeks to go before his biggest fight, in alignment with the Marine Corps 235th birthday and Veterans Day Mitchell joined MicroTech CEO - Tony Jimenez, UFC Lightweight Champion - Frankie Edgar, Bellator Lightweight Champion - Eddie Alvarez, and Brazilian Jui-Jujitsu National Champion and Pan American Champ Gregor Gracie at the renowned Walter Reed Army Medical Center.
The athletes visited the rehab ward and other sections of the military hospital in Washington DC and met with soldiers that served and were wounded in Afghanistan and Iraq.
This one example alone does not define Seth but it shows you the type of character he has.
We often times get caught up in the athletes who are the fastest, can punch the hardest and entertain us, but we don't give enough credit to the athletes who have the complete package.
For those who don't know Seth yet, here is a better look at the complete package and potential future Heavyweight Champion, Seth Mayhem Mitchell.
Fox 5 Interview by David Ross with Seth Mitchell
Seth 'Mayhem' Mitchell Trying To Bring The Belt Back To The Beltway: MyFoxDC.com