Rebuilding Season Leaves Much to be Determined for Wizards
In the ideal situation, an NBA franchise's management would be able to assemble a team, draft the missing pieces, and let them develop chemistry while growing together over time. Unfortunately, time is a luxury that ownership and coaches are not granted with the constant pressures from fan-bases to "win now".

While most will concede that winning immediately after finishing as one of the worst teams in the league is beyond a lofty goal, they won't go as far as giving management much of a leash to make mistakes. Sure, a losing season here and there is acceptable, but the team had better be making good use of their time and finding the talent and potential needed to improve the following season - or all hell will break loose on the blogs, radio shows, twitter, and any other medium that exists.

At 10-26, the Washington Wizards aren't thinking championship - at least not for this season. They are searching for the leadership, talent, and chemistry needed for this young team to take the next step and contend for a playoff spot in 2011-12. Most of all, this team is in search for its true identity - something they may not find until the final weeks of the season, if at all.

The popular saying is that one can find out the most about the character of an individual in their darkest hour. Translate that into the basketball world and it is worth noting how different players approach the game in March and April, with little to play for outside of pride.

Will they bring the same effort as they would during a winning season? Would their commitment to improving their individual games within the scope of the team still be there?

These are just some of the things that will be evaluated when deciding who is fit to lead this team in the future, and who is along for the ride and/or paycheck.

While head coach Flip Saunders worries about the aforementioned, fans can focus on some positive attributes of the current team as they relate to the future.

Emerging Guards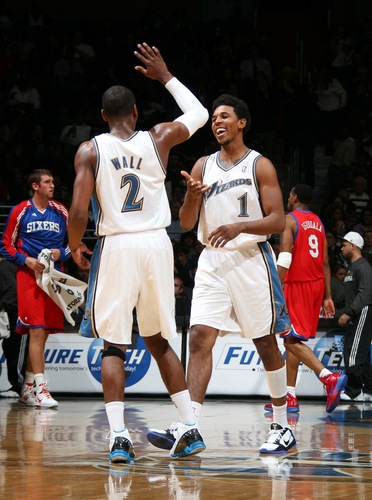 Rookie John Wall and fourth year player Nick Young make up the starting backcourt. While Wall's success has been well chronicled (15.7 ppg, 8.8 assists) as he competes with Blake Griffin for rookie of the year, few outside of the Washington area have noticed the steady improvement in Young's game, especially since becoming a starter midway through the current season.

After averaging 13.6 points per game while shooting 36 percent off the bench, Young has improved to 20.4 points per game on 47 percent shooting. Clearly, his ability to stay in the constant flow of the game has improved his shot selection and comfort level. Two games after reaching a career high in assists (five), Young achieved another career milestone by scoring 43 points.

Young is a player to monitor when talking about putting in the time and effort to improve. If he continues to show the positive signs that he has thus far, he could solidify himself as the starting shooting guard for years to come.

Young Foundation
While there are some savvy veterans on the team - Rashard Lewis, Kirk Hinrich, and Josh Howard come to mind - the current Wizards' roster is a very young one. The average age is only 25 with starters Wall, Young, and JaVale McGee all being under the age of 23. With youth comes great inexperience and with inexperience comes the likelihood of mistakes. But with mistakes comes the opportunity to learn, grow and begin to discover what it takes to win.

If the Wizards can keep their young nucleus together for the long haul, it will become a major factor in their chemistry and trust during key situations in ballgames. Teams become championship winners when they develop the conviction and confidence in one another. The San Antonio Spurs, Los Angeles Lakers, and Boston Celtics come to mind.

Trust is earned over time, through repetition, and through ups and downs. Being a young twenty-something isn't a bad thing for building a team's foundation.

Hustle
Looking at the statistics for the Wizards, it doesn't take an expert to realize that the team is far from great on offense. Defensively, they aren't very good either. But again, those are areas that will improve as the experience and continuity grows.

What does stand out are two statistical categories that show hustle. The team is fourth in the league in steals and fifth in blocks. Teams that succeed in the playoffs do so by effort on the defensive end. The young Wizards are showing that they are capable of making the big plays and that is worth noticing.

Cap Flexibility
Washington made a decision about the direction of the franchise and elected to start with a young base. In doing so, they jettisoned veterans Caron Butler, Brendan Haywood, Antawn Jamison, and Gilbert Arenas. With them went their large contracts.

Another advantage of having such a young team filled with players trying to make their mark is their relatively low cost. The Wizards have the cap space needed to make moves for the future, and Lewis's contract expires at the end of the 2012 season.

Cap flexibility will be key in filling the identified holes with the appropriate personnel, whether it be a free agent veteran or an emerging young player.

Leadership from the Top
Perhaps the most important aspect in all of this is the leadership at the head coach and ownership level. Flip Saunders has made it clear that he is not afraid of a rebuilding project. In fact, he welcomes it. He views it as a challenge while many coaches would be looking for a way out.

Through his actions, Owner Ted Leonsis has informed the fans and media that he is committed to doing whatever it takes to get the franchise turned around in the quickest and most feasible way possible. While he is willing to spend the necessary money, he isn't going to blindly write checks. His philosophy of rebuilding a team is one that starts with structure and discipline. The Washington Capitals are a perfect example of what he is capable of as an owner.

Fans should be thrilled that Leonsis is one that has higher expectations for the franchise than they do. As we look around the sports landscape at different owners in different sports, it is clear that he is one of the best and that should serve as a sigh of relief. After all, it's hard to have leadership on the court if you don't have it up top.


Being pessimistic is simple. We could talk for hours about everything the Wizards have done wrong in the past, everything that is wrong with them now, and everything that could go wrong in the future. It's too easy.

Fans and media alike need to give this franchise the opportunity to grow. Rebuilding is a ride that we are all a part of. Aches and pains come with the territory, but hopefully at the end, they make the journey to success that much more worth it.