A Blossoming Rivalry of Epic Proportions?
A Blossoming Rivalry of Epic Proportions? Probably Not… But One Could Always Hope!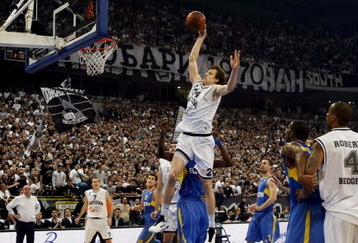 By Hassan Naeem

The moment I heard Jan Vesely utter the words "Blake Griffin is the American Jan Vesely" in his imposing Eastern European accent, I had an instant flashback to all those nights as a kid staying up until 3 am watching Rocky IV, and witnessing Ivan Drago, threaten Rocky with phrases such as "I will break you" or "I can not be defeated. I beat all man. Someday, I will beat a real champion. If he dies, he dies." Now if Blake Griffin takes Vesely's words as a challenge, I believe we have the makings for our next big basketball showdown the likes of Lebron & Deshawn I and II, or even Magic and Bird (Okay maybe I'm getting a bit carried away now) and if we're lucky, we won't have to pay for it (like we would have had to for the pay per view event headlining Shaquille O'Neal versus Hakeem Olajuwon, in a one on one game that never actually took place due to a back injury to Hakeem.)
Now as we work our way back to the article, It's easy to see that Vesely is no where close to being as physically imposing to other power forwards in the NBA, as Drago was to Balboa and Creed; he does have the potential to have a comparable instant impact on the NBA landscape. I'll admit as a fan of our hometown team, I was pretty skeptical about Vesely's game. The rationale being:
a) There's hardly any footage of the kid on YouTube doing anything besides dunk the basketball and not being able to handle alley oops due to "bad hands" as described by David Locke of the Utah Jazz.
b) The hatred spewing from die-hard Wizard fans on internet message boards based on both reasons a, and c, although primarily c.
c) Memories of Oleksiy Pecherov (Washington's 2006 18th overall Selection) getting posterized by Andres Nocioni of the Chicago Bulls. Yes Andres Nocioni arguably the second least athletic player in NBA history, just ahead of Ron Artest, sorry I meant to say Metta World Peace. I really don't blame fans for never wanting to draft a European in the first round again, due to the colossal misery caused by unbearable images of "Stewie" (Yes, The Pech resembles Stewie from Family Guy more than this guy...


(resembles Peter Griffin) attempting to play basketball much like Shah Rukh Khan in 1998's Bollywood classic Kuch Kuch Hota Hai. For those of you who are not Pakistani or Indian and have not seen this visual torture take place at least 100 times (and enjoyed it deep down), here you go:


What changed my mind, however, weren't all the raving reviews from the ESPN draft panel, or from our resident internet draft experts. What changed my mind was the swagger, and the charisma that oozed out of the 21 year old Czech Republican, from nonchalantly making out with his nearly 7 feet tall, blonde, basketball playing girlfriend for the whole world to see, (who by the way, isn't as hot as everyone made her out to be) and also the confidence with the hint of cockiness he exuberated once being selected. That confidence, along with the reports of his freak athleticism, and hardworking nature leads to me to believe that this guy could genuinely be a great fit with the Washington Wizards; a team that needs an athletic big man who can run the floor with John Wall.
This brings me back to the statement Vesely made about Griffin; which was significant because it could either make or break his career. I'm certain Blake received word of Jan's comments from some media outlet or a member of his entourage, and I'm sure he smells blood 5000 miles away. What that statement did for Vesely, whether it was intentional or not was that it put him on the map. Unless, of course when the Clippers come to town next season, Blake puts up a 30 point and 10 rebound performance mixed in with 3-4 blocked shots on him, prompting Vesely to do his best Ivan Drago imitation by yelling to Flip Saunders:
Blake is not human, he is piece of iron.
With that being said, I do think Jan Vesely has the potential to be a lighter version of Blake Griffin. The problem that most people have in rating players such as Vesely is that when they think of European players, they think of finesse players who must encompass a great jump shot. These players also have a reputation for generally being soft or weak compared to American players. So when fans read a scouting report of a foreign player like Vesely and see that he doesn't possess a great jump shot like Nowitzki, or that he doesn't exhibit the ball skills of a Barea, or Dragic, the conclusion is generally reached that he will not have an impact as an NBA player.
However, what needs to be realized is that Vesely like Griffin is an extremely athletic big man, who can finish at the rim with extreme ease. Yes he is a bit raw fundamentally, but which 21 year old isn't? Yes the bad hands could be a problem, along with his turnover rate in the paint, but the Wizards brass seems to believe they can correct that. Blake Griffin himself doesn't do much more offensively yet, other than finish on fast breaks or attempt to score with a still developing low post game. Of all the things that have made Griffin as successful as he has been thus far in his short career, the attributes that stand out are his athleticism, size, determination, and high basketball I.Q; all of which Jan Vesely also has, minus the muscle. So basically what you have in Vesely is a fundamentally raw offensive player with potential, freak athleticism, years of experience as a starter and glue player on a championship team in the second TOUGHEST league in the world, behind the NBA of course.
This is why I believe that when the Clippers do come to town, with Blake Griffin motivated to make an example out of Vesely for the slight on draft night; that Jan Vesely will battle back and forth with his contemporary and maybe… just maybe Flip will go up to Jan during a huddle with a minute to go in the game after Vesely scores on Griffin to put the Wiz Kids up by 1, and tells him much like Duke told Rocky in the climax of Rocky IV:
You see? You See?? He's not a machine… He's a Man… He's a Man!!!