Wizards lose 5 games to first set of NBA cancellations
So now that David Stern has made it official by saying that the first two weeks of the NBA season are officially canceled, let's get the obvious out of the way. What are the immediate effects on the Washington Wizards.
The Wizards lose five games, three at home and two on the road. If no more games are cancelled which is pretty much a pipe dream right now, we are looking at a season opener at Verizon Center against the Boston Celtics on the 22nd of November.
Why so long you ask? Washington would start the season on a four game road trip against the Lakers, the Kings, the Warriors and Nuggets.
Don't worry, there's more.
We now lose 1 of 2 Verizon Center appearances by Dwight Howard, Gilbert Arenas, Derrick Rose, Joakim Noah, Deron Williams and Kim Kardashian's husband.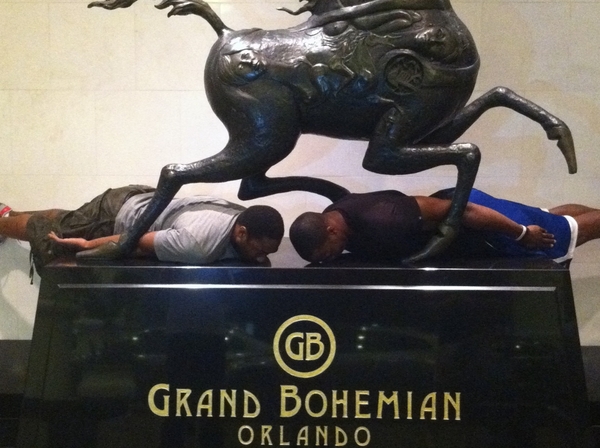 As a result of the missed games the Wizards will only play the Miami Heat 3x (2 - home, 1 - away), New Jersey Nets 3x (1 - home, 2 - away), Chicago Bulls 3x (1 - home, 2 - away), and Orlando Magic 2x (1 - home, 1 - away).
Cancelled Games:
Nov. 2 New Jersey
Nov. 5 Orlando
Nov. 6 @ Miami
Nov. 11 @ Orlando
Nov. 13 Chicago
If the Owners and Players can't figure this thing out in the next few weeks and Stern keeps cancelling in two week incriments, the Wizards would lose 8 more games in the following 2 weeks:
Nov. 15 @ Los Angeles
Nov. 16 @ Sacramento
Nov. 18 Golden State
Nov. 19 @ Denver
Nov. 22 Boston
Nov. 25 @ Detroit
Nov. 26 Minnesota
Nov. 28 @ New York
Don't get me wrong, I understand the system is broken and it needs to be fixed but this is the first day for NBA fans everywhere to collectively say "this sucks".
Don't worry Mr. Stern, I feel the same way you look....