Medley of the Forgotten, Part II: Gar Heard
This series follows management's head coaching missteps that have inevitably cost the Wizards adequate franchise development. Next up...

Gar Heard
Previous tune: Leonard Hamilton
---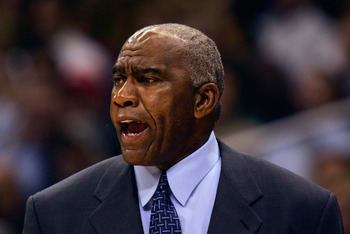 Following the firing of Bernie Bickerstaff and the interim coaching of Jim Brovelli, the Washington Wizards in June 1999 hired Gar Heard. Heard spent 11 years in the NBA and served as an assistant with a host of teams, including Philadelphia, Indiana, and Detroit.
Heard's previous NBA head coaching experience came as an interim with the Dallas Mavericks, where his team posted a 9-44 record during the 1993-1994 season.
Heard coached a roster made up of aging, yet still mildly productive core of Rod Strickland, Mitch Richmond, and Juwan Howard. Strickland and Howard were key pieces of the Bullets team that made it to the first round of the playoffs during the 1996-1997 season, and then to a 42-40 record the following season. The team also featured promising rookie Richard Hamilton, long-range specialist Tracy Murray, and veteran back-up point guard Chris Whitney.
Also with the team was Ike Austin, who the Wizards acquired in a trade with the Orlando Magic, shipping out Ben Wallace, Jeff McInnis, Tim Legler, and Terry Davis. Austin was largely a disappointment in Orlando due to health and conditioning issues and his first year with the Wizards would not yield a reversal of fortune. Mired by the same issues, Austin would play only 59 total games and average 6.7 points per game and 4.8 rebounds per game.
Overall, the roster would fail to gel, with only Howard starting all 82 games and the team using a hodgepodge of line-ups throughout the season.
Compounding the issue of an underachieving roster, Heard also served his time as head coach under the uncomfortable watch of new President of Basketball Operations, Michael Jordan. Jordan was hired by the Wizards in January 2000, and it was immediately assumed that he would look to make his own head coaching hire.
Heard also failed to get along with the team's core players, Howard and Strickland, sometimes openly blaming them for the team's struggles. Strickland was especially not receptive to Heard's coaching style, remarking that blame for the team's struggles needed to be attributed the entire organization, not just the players.
Heard was fired in January 2000, less than one full season into his contract, and replaced by Darrell Walker. Heard's record as head coach was 14-30.
The Wizards under Heard were 19th in points per game and 19th in points allowed per game. With Walker coaching the remainder of the season, the Wizards would finish 29-53, missing the playoffs for a third consecutive year.