As has been the case with the Washington Wizards in recent years, it seems it is never too early to start looking at the draft lottery. And sometimes it just seems like it is more fun to talk about the future then to have to face the realities of the present.
The Wizards are currently in a race with the Hornets and Bobcats for worst record. Since interim head coach Randy Wittman took over, Washington has shown improvement on the floor but they still hold a 4-18 record. If they do not show significant improvement over the second half of the season, they will more than likely be looking at a top five pick come June 28th.
The Wizards have been struggling on both ends of the floor all year and really have not had solid production from any of their positions. In order for Washington to become more competitive, upgrades in talent across the board are necessary.
Washington's major weakness so far this year has been scoring. The lack of an effective post scorer is one area the Wizards should look to target on draft day. Without inside scoring, they have had to rely heavily on outside jump shots when forced to go into a half court set.
The problem with that is the core guards have been very inefficient from the floor so far this year. Pairing an efficient scorer with John Wall should be another one of Washington's goals in this draft. What management needs to avoid is going after more "athletes" who have potential but do not have a high basketball IQ.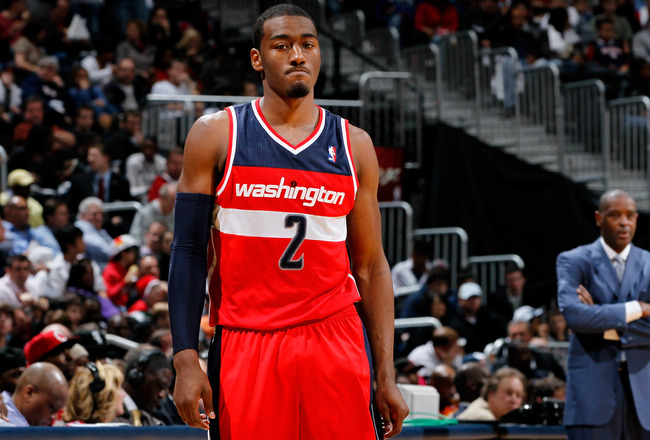 The Wizards need to draft players with a high basketball IQ who know how to play the game right away, so they can make sure they are maximizing Wall's talent and potential.
According to draftexpress.com, their top 5 college prospects are: Anthony Davis (PF), Andre Drummond (C), Michael Kidd-Gilchrist (SF), Harrison Barnes (SF), and Jared Sullinger (PF).
To me, center Andre Drummond from UConn projects to be more of a high potential guy with raw talent as opposed to someone who can come in and contribute right away. He sounds like a classic Washington draft pick, containing great length, athleticism, and potential.
Potential is a scary word when it comes to DC sports. Again, I believe the Wizards need to focus on players who already have a solid skill set, and can come in and contribute immediately. Here are my rankings for who would be the best fit on this Washington Wizards team:
Anthony Davis, Kentucky (PF) – 6'10" 220 pounds
Averages – 13.3 points, 10.3 rebounds, 1.5 steals, 4.6 blocks
Davis has been very impressive as a rookie for Kentucky. He is extremely athletic and mobile for a big man. Davis has an excellent motor on both ends of the floor, especially the defensive end. He is very tough inside, and has all the tools to be a great defender.
There are still some holes in his game, but not enough to pass over his talent with the first pick in the draft. Davis is still not a go-to scoring option on the block, which is something that Washington desperately needs. He also needs to hit the weight room more, to get bigger and stronger. He is still only 18 years old, so this should come with time.
Davis already has great fundamentals, and has the potential to grow in many areas. With his high basketball IQ, he is exactly the type of player the Wizards would be lucky to get in the draft.
Thomas Robinson, Kansas (PF) – 6'9" 240 pounds
Averages – 17.5 points, 11.8 rebounds, 1.2 steals, 1.2 blocks
Many people do not have him this high, but Thomas Robinson would be a great selection for the Washington Wizards. He has a great inside post game, and is an extremely efficient scorer, currently shooting 53.2% from the floor. Robinson has good size, a solid frame, and long wingspan. He is an above average athlete, and is extremely aggressive out of the paint. He would bring an inside toughness that is currently lacking on this Wizards team. Robinson is also very aggressive on the glass, which is another big need that Washington has.
Robinson still needs to continue to develop his mid-range offense in order to become more of a complete player. He also will need to work on his free throw shooting, currently shooting 66% from the line.
Another player with a high basketball IQ, Robinson would instantly be an upgrade for Washington. He would bring toughness, grit, and skill to the power forward position that the Wizards are currently lacking.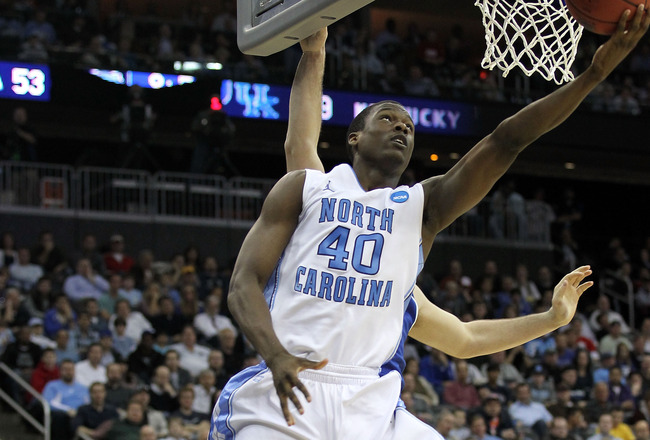 Harrison Barnes, North Carolina (SF) – 6'8"223 pounds
Averages – 17.5 points, 4.6 rebounds, 1.2 steals
Harrison Barnes is a very good scorer, something that is missing from the Wizards out of their SF spot. On top of being a good scorer, he is a very efficient. Efficiency should be one of Washington's targets in this draft. They do not need any more volume, streaky shooters, who disrupt the flow of the offense. Barnes is also a very effective shooter from three-point range. He is currently shooting 45% from long distance.
The knock on Barnes is that he is not an elite athlete. He is not as aggressive as he needs to be, which results in less free throw attempts then you would expect out of a scorer. Playing alongside John Wall, Barnes would expect to see many open looks where his efficiency would be beneficial.
Another high IQ player, Barnes would be an upgrade to the Wizards roster and would come in and compete for a starting spot immediately.
Michael Kidd-Gilchrist, Kentucky (SF) – 6'7" 228 pounds
Averages – 12.7 points, 7.6 rebounds, 1.2 steals, 1.1 blocks
Kidd- Gilchrist is another efficient scorer similar to Barnes. His averages are much lower, due mainly to shot volume and team situation. Barnes is attempting 12.9 shots a game and is expected to take on more of a scoring role. Kentucky has offensive options, and Kidd-Gilchrist is only attempting 8.8 shots a game. He contributes to the team in all aspects of the game. Michael is very strong and aggressive, and can finish well at the rim. He is good in transition, which will be a good fit with John Wall pushing the tempo. He is a very aggressive and sound defender and seems to take pride in playing defense.
MKG still needs to develop an outside shot to compliment his already refined game. More development in knocking down open shots and outside jumpers will help him become a complete player.
He has a motor that seems to always be running and never takes plays off. Again, this can be seen as an immediate upgrade to this Washington team. His non-stop motor combined with a very high basketball IQ could do wonders to help change the culture of the Wizards.
Jared Sullinger, Ohio State (PF) – 6'9" 280 pounds
Averages – 17.1 points, 9.1 rebounds, 58.8% FG
Sullinger was projected to be a top pick in last year's draft, but decided to go back to Ohio State for his sophomore year. He has not done anything to show that he shouldn't still be valued as a top pick. One of the best attributes of Sullinger is his aggressiveness in the paint. He has a big time motor and always plays with toughness on the block. If he were drafted by the Wizards, he would instantly become the starting PF and bring with him the inside scoring that Washington needs. Very fundamentally sound on offense, he is extremely efficient and uses an array of post moves. He is also an above average rebounder.
Sullinger is slightly undersized in the height department, but he has the girth and weight to battle opposing PF's on both ends of the floor. He is not an elite athlete, but he makes up for that with inside toughness and excellent footwork and positioning.
Another player with a very high basketball IQ, Sullinger would contribute right away for Washington. He too would help change the culture of the Wizards, bringing toughness, an excellent motor, and hard work ethic.
--Other potential picks include the aforementioned Andre Drummond, Baylor's Perry Jones, North Carolina's John Henson, and Connecticut's Jeremy Lamb.
All five players highlighted have a few attributes in common. All have a good motor and always show up to compete. Most importantly, these are high quality basketball players. They all have a high basketball IQ and flat out know how to play the game.
The Wizards need to move away from the projects, who are loaded with length, athleticism, and potential, but do not know how to play the game of basketball. It is time to draft pure basketball players, who can come in and make an impact right away. Washington's goal this draft should be surrounding John Wall with as much immediate talent as possible……..before it is too late.