THE STARTING FIVE : Halfway point evaluations, and suggestions for improvement
Every week Wizards Extreme will feature 5 burning questions and their answers pertaining directly to the Washington Wizards and the current state they are in. This week's segment addresses certain player evaluations as well as surprises and disappointments from the first half of the season, and also ways to improve the team moving forward.
Today's feature includes responses from the Wizards Extreme's team - Michael Andrews, Saam Bozorgmehr, Matt Naqvi, and Trevor Jackson, as well as one of our forum members, Calixto Perez.

1. What has been Washington's biggest problem in the first half of the season?
Mike: The biggest problem has to be the lack of a consistent offense. One game the Wizards score in the mid 60's and another game they are doubling that score. One game John Wall is scoring 38 and another he's scoring 2. The team has to find some sort of consistency within their lineup, and that might even mean blowing up the roster to create for a much quicker team. Mo Evans and Roger Mason provide good leadership but there are other leaders out there who still have some explosiveness.
Calixto: It's obviously their inability to play "team" basketball. Time and time again, they resort back to playing selfish basketball, which is normally a sign of a team with low basketball I.Q. They just don't get it and sadly, I don't think any amount of coaching is going to change that. The off-season "needs" is a solution to part of that problem.
Trevor: Scoring, efficiency, and selfishness. I will stick to scoring for now, as the selfish aspect would take up to much space. This team lacks scorers who have the ability to play within an offense. Sure Nick Young and Jordan Crawford have had big scoring nights, but only when they have a large volume of shots. Neither player is efficient: Young is shooting 40.3% and Crawford 39.4% from the floor. Inside scoring has also been a huge problem for the Wizards. Other than JaVale Mcgee alley oops, Washington desperately lacks an inside scorer they can go to in the half court set.
Matt: I think getting consistent has been the biggest issue; it's hard to get into a groove if you're starting different guys each night. Losing flip did not help but it seems the new leadership has a better handle on the situation. I also think not having a consistent scorer on the floor has hurt them. I only count Nick Young and Rashard Lewis as the only ones on the team that are threats from the perimeter. If thy can add another sniper they will set themselves up better.
Saam: I think the teams biggest problem all year been about learning how to close out games. Even by mid way through the 3rd quarter in to the 4th quarter, the games are mostly within reach. As the over used sports cliche goes, "The difference between the good teams and the bad teams is the ability for one to know 'how to win." The Wizards just simply aren't there yet. As Phil Chenier said in my interview with him following the loss to Sacramento, "I think we still fail to put our foot on the throat of opponents." I guess if I had to follow up on that and point out the biggest problem that leads to this team's inability to close out games… I'd say it's because they begin to panic when they fall behind in the 3rd quarter. Once they get behind by 7+ points, the ball stops moving, the offense never gets set, and before you know it Chris Singleton (previously Andray Blatche) or Rashard Lewis are putting up 25 foot jump shots with the shot clock winding down.
Who has been the biggest disappointment this year?
Mike: The biggest disappointment to me is Roger Mason, Jr. I was really excited to see him back with the team this year and I thought he'd have more of an impact when they announced his signing. I thought he'd greatly improve our three-point game, but for a few reasons, he has been pretty quiet this season. It all really started when Flip left him off the lineup and I think that ruined his mojo. He hasn't been the Roger Mason Jr. the fans have expected him to be.
Calixto: Chris Singleton has been the biggest disappointment. He started the season with so much promise and showed glimpses of why he was drafted with the 18th pick and considered one of the best all around players in the draft. Being on a bad team, he's been given the opportunity and minutes that more highly touted rookies haven't benefited from but he hasn't lived up to those minutes or expectations.
Trevor: To me, the biggest disappointment this year has been Nick Young. Others believe Young has made strides in his leadership and on the defensive end. I tend to disagree. I don't know about his leadership off the court, but on the court he still plays his own brand of basketball and disrupts the offense. He seems to be the same player we have seen for the past couple years, alternating between high scoring nights and low production, lackadaisical, selfish basketball. The growth that should be expected out of a player in their 5th year just isn't there.
Matt: I feel Jordan Crawford has been the biggest disappointment. "Herky Jerky" has had a few golden moments but has failed to deliver otherwise. I think this has added more pressure to Wall who has been forced to step up. I count this as a negative since it might have the potential to cause pre-mature burnout but that remains to be seen.
Saam: When your team is 19 games under .500 heading in to the All-Star break of a shortened season, there are a lot of disappointments. But If I had to choose one, It would have to start and end with the guy who makes the most money on the team and that's Rashard Lewis. When you're making 20+ million a year to make mid range-long range jump shots and 3's, I'm gonna need more than 7 points and a 23.9% 3 point field goal percentage bro. By the way, in case anyone out there was interested, that 23.9% from behind the arc puts Rashard at a modest, 252nd in the league. Right behind Corey Maggette's 24%. If that doesn't get you on my side, then I don't know what else to say.
Who has been the biggest surprise?
Mike: Trevor Booker. He has in my mind solidified a starting position with the team. He constantly plays with passion and energy and even on a "bad" night, he's still leaving the game with a consistent number of rebounds and hustle plays. Booker started to show his worth when he came off the bench. But when Blatche got injured, Booker's effort was rewarded with that starting position--a well-deserved starting position at that.
Calixto: The biggest surprise from a negative standpoint would have to be Nick Young. I really thought that after not getting any offers during the off season and only getting a qualifying offer from the Wizards, that he would have a career year and come out and prove to everyone, once and for all, that he's not a one dimensional player.
Trevor: The biggest surprise to me so far this season is Trevor Booker. Booker plays with a hustle and energy that has been lacking on this team from the PF spot. He is very athletic and strong, and goes hard every time he is on the court. You don't have to worry about mental lapses with Booker as much as you do with some of the Wizards other young players. He has been very efficient, and plays within the offense. He has a good basketball IQ, and seems to never take bad shots. With the season Washington is having, I am glad they decided to give Booker solid minutes. He has proven that he belongs in the rotation, and can be a solid player for the Wizards for years to come.
Matt: Javale McGee has been a surprise for me. I honestly thought he would be par for the course this season but he has shown vast improvement. Regardless of a few bone headed mistakes like running back on defense when they still had the ball and what some claim as "bone headed when he dunked by throwing it off the backboard. He has improved and doesn't fall as often for the head fake. He has shown his kill'stinct on defense is still strong and his shooting has improved overall. I think once he polishes a post move he will be a legit threat as a center in the league.
Saam: Trevor Booker. His hustle and passion is something that this team needs much more of. You hear guys like John Wall and Nick Young constantly talk about how Trevor's game makes them want to play better because he brings a level of intensity on the court. Trevor's approach, preparation and dedication to getting better every day is what amazes me the most. He's the first guy on the court warming up before the game and the last one to leave because he want's to get one more pass from coach Banks. His dedication to his craft has manifested itself on the court this year, specifically over the last dozen or so games.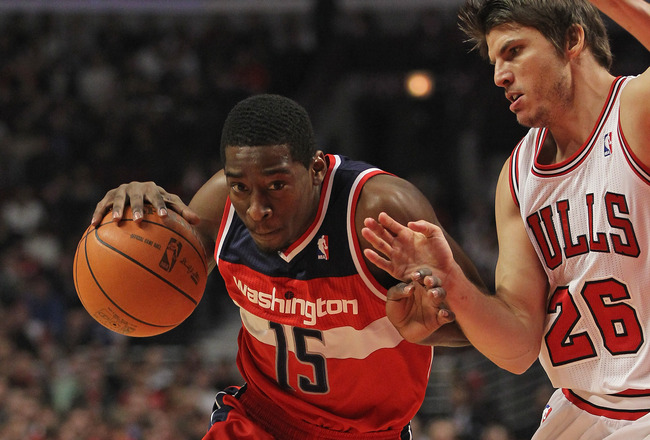 If you were the GM, what changes would you make prior to the trade deadline this season to help?
Mike: Blatche needs to leave. It's obvious this team is better without him. I am a huge Nick Young fan, but if the Wizards are going to cut ties with him (which seems inevitable at this point), I'd rather it be before the trade deadline to get the maximum return for him. While I like Jordan Crawford, as well, I feel he is a very valuable trade piece and could be used to help acquire a bigger name at the trade deadline. It's obviously a safe bet that Wall will not get traded, but I have to state that there is no way that the Wizards can trade McGee. If they trade McGee, I can see him going to another city and becoming a superstar. That's a risk the Wizards cannot take.
Calixto: To help? Not sure how much help any trade would be for this season, but my number one priority would be to trade Nick Young. My first call would be to playoff teams who have trade exceptions they could us in acquiring NY as an end of the season rental to help with a playoff push. Of those, Denver would be the one I called first, followed by the Clippers and Mavericks. Cash and/or pick(s) is all I would require. If that didn't pan out, I'd call the Thunder to gauge their interest. Amnesty Andray Blatche because no team in the league will trade for him and I would throw JaVale's name out there to see how big a fish I might catch.
Trevor: Trading Nick Young for any type of young talent and/or draft pick is a move I would be looking at. Since he will be an unrestricted free agent after this season, the likelihood of him signing another deal with Washington seems slim. Trading him now also removes the option of possibly overpaying for him in free agency. There are teams out there who are in need of bench scoring who may be willing to give up a pick to get it. Also for Nick, if he goes to a playoff team who has more of a structure offensively, he has a better chance to grow as a basketball player.
Matt: I would move the expiring contracts and package Blatche for one-way trips out of town. I would add a few viable vets who have gas left in the tank to help the team grow along with any new picks we pick up this off-season. I like the concept of rebuilding but one size does not fit all. We are not OKC and we definitely don't have a Durant on this team to build around. We require veteran assistance to supplement our youngins.
Saam: If I was the GM I don't think I would do anything. I think we have to use this time to properly evaluate who we want to be on this team moving forward in to next season. Once we're able to identify our "core guys" we can make moves in the off season around them and Coach Wittman's system. I love the way Randy Wittman coaches. He's energetic, loud, and not afraid to tell it how it is. I think he should keep his job. Let's face it, I don't see anyone lining up to make a move for Rashard Lewis or Andray Blatche any time soon so we might as well just ride out the season with what we already have. We're 19 games under .500, I don't really see how much there is we can do heading in to the deadline.
What is the biggest off season need the Wizards should focus on?
Mike: Three-pointers. The Wizards have been destroyed by opponents this season by the three-pointer. Nick Young is really the only consistent three-ball shooter on the team and he can be streaky at times. The Wizards have got to get some deep shooters who can swing the momentum of the game. The three-pointer can also speed up the tempo of the game, as well, which will pay even more benefit to the Wizards as they are a team who has to play an up-tempo offense.
Calixto: They need to focus on ridding themselves of the "knucklehead" identity they're known for around the league and begin to forge a new identity. They need to rid themselves of Nick Young, Andray Blatche and sadly, while he has the upside many teams may covet, JaVale McGee. I wouldn't make the same mistake that's been made with Blatche and Young. Trade them while their value is at it's highest. If rebuilding is truly Ted's goal, then we need to continue to tear away of what's left of the old team.
Trevor: The solution to question 1 about the biggest problem – scoring. Washington needs to get some scorers on this team, and efficient ones at that. The two biggest needs for this team are scoring/outside shooting at the 2/3 spot, and inside scoring. The draft and free agency should give the Wizards a chance to upgrade at both. The upcoming draft is very deep, and Washington should take the best player available, and look to free agency to fill the need for additional scorers.
Matt: I think a deep threat sniper is mandatory especially if Nick Young decides to leave town then this team will go from bad to worse. I would also add one inside banger. Who is this mystery person? I don't know but we need to find one ASAP.
Saam: I feel like as a Wizard fan, we go in to every off season saying the same thing, "we need a big man." I'm actually on the side of JaVale McGee here. I think he's a great rebounder and (When not goaltending) is able to block a lot of shots. However, he needs help around him. Kevin Seraphin hasn't exactly done enough to show me that he's able to fill in and play along side JaVale. Not to mention, too much depth in the front court is never a bad thing. Dwight Howard to D.C.!