Wizards Must Find a Way to Capitalize on Victories
In the midst of a calamitous season of Wizards basketball, we've been witness to quite an epidemic of atrocity.
From the very get go we were exposed to an in-game collapse against the New Jersey Nets on opening night, only to be followed by the post-game whimpers of Captain Andray Blatche as he fussed about being displaced in Flip Saunders' offense.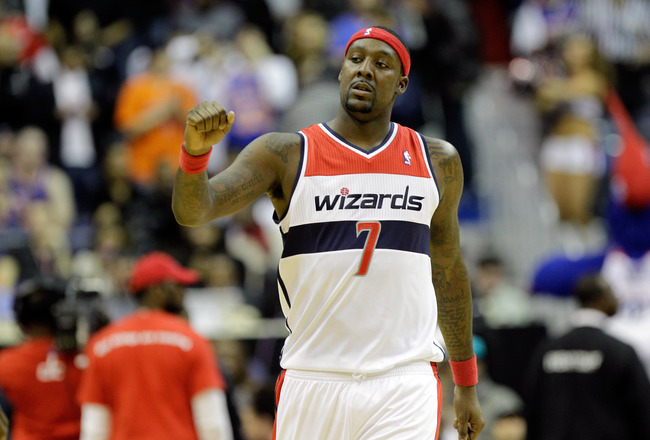 That incident was the jumpstart to a rash of headlines that surrounded the team on a nightly basis: John Wall's slow progression, Rashard Lewis' renouncement of the phrase "there is no such thing as a free lunch", and of course the players' disenchantment with Flip Saunders, which lead to the coach's subsequent demise.
Oh, and they also started 0-8.
It's been a trying year for the Wiz Kids. So much in fact that despite a rare victory last night in dramatic overtime fashion, the next day buzz is all about the infamous JaVale McGee terrible-hook-shot-prematurely-run-back-on-defense play.
For all my basic cable people out there, here is the clip, courtesy of CSN Baltimore.
Sadly, a play that seems like the worst sequence of events ever in a professional basketball game is also a depiction of what the Wizards' season has been like all year.
I hate to be the buzzkill after a thrilling victory, but let's be real.
Am I impressed with the production of John Wall and Nick Young last night? You bet your sweet bippy I am. Am I thrilled about the continued development of Trevor Booker? Mmhmm. Is my blood pressure more stable when Rashard Lewis and Andray Blatche are inactive? Hell yeah. Does Jordan Crawford's recent improvements on offense make me smile? Eh, kind of.
However, the blatant truth is that this team is about as consistent as Kevin Seraphin's hairline. The level of potential on this team has been displayed on the court sporadically and until the 'Zards can produce well enough to put together a good chunk of wins over a span of time, these types of performances will soon be forgotten.
With the Jeremy Lin Show and Lob City East due for visits to Chinatown this week, the Wizards look to capitalize on their rare win and try to present some form of consistency if they have any hope in keeping our positive memories refreshed.