With every Wizards player that touches the ball, there seems to be a uniformity of negative chants blaring from the crowd.
Whether it's "pass the ball!" while Jordan Crawford is aimlessly dribbling around the perimeter, or "God please don't shoot it" every time Rashard Lewis makes eye contact with the basket, the fans refuse to contain their emotions, and with a record of 2-13, why should they?
But amidst all the heckling, Crawford and Lewis can still manage to draw some sort of fan pleasure from time to time.
Andray Blatche cannot.
Throughout his career, Blatche has been testing the patience of the Wizards faithful. Since his promotion in to the starting lineup following the dismemberment of the "Big 3" in 2009, Blatche has shown promising signs of an evolving superstar. However his consistency, maturity and effort has always remained a concern.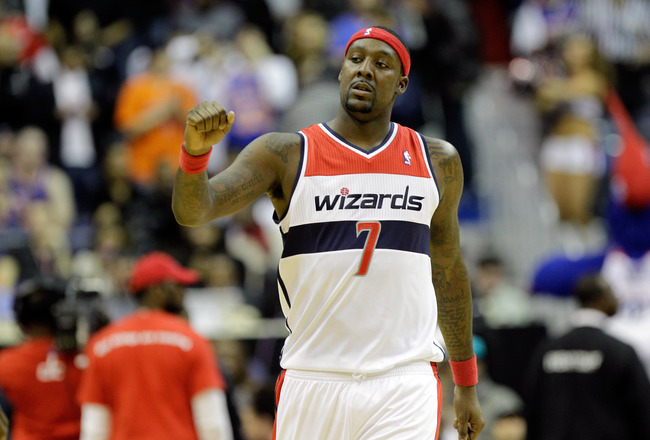 The fans now appear to be at their wit's end. It's like Michael Irvin getting carted off the field at Veterans Stadium every time Dray steps on the floor.
Whether it's during starting lineup introductions, or when he's checking in and out of the game, the mere sound of Andray Blatche's name has been triggering a blare of jeers and boos in almost perfect synchronization, combined with an underlying hiss of sneers and gibes.
I've always been a believer of giving respect where it's due and criticism when it's warranted, and based off Blatche's latest box score, one could say his treatment is very warranted.
The booing began during the introduction of the starting lineups before the game against the Thunder on Wednesday night, and they haven't let up since.
"I could've let it get to me, but I had to keep a strong mindset," Blatche said following the Thunder game.
His mindset was strong enough to play through the jeers against Oklahoma City, but it was overwhelmed against Denver.
A missed jumper followed by a turnover early to start the game sent Blatche to the fans doghouse faster than a t-shirt flying out of G-Wiz's bazooka.
A soft spot in my heart cries for Dray. The animosity building between player and fan is tough and has clearly flustered Blatche's mentally.
However, as unglamorous as Blatche has been the last two games, he is still earning the credit of his head coach.
"Dray still was a +4 when he was on the floor, meaning we were winning when he was out there," coach Flip Saunders defended.
Flip using a sorely misleading stat line such as the "plus/minus" to justify Dray's involvement in the rotation could mean trouble.
Someone just needs to cheer Andray up before his plummeting trade value becomes nonexistent, because last time I checked, a positive plus/minus stat doesn't grasp much attraction.