WE Preview: Wizards vs. Nuggets - 1/20/12
AT




Friday, January 20th, 2012
7:00 PM ET
TV: Comcast SportsNet Plus HD
Steve Buckhantz, Phil Chenier
Radio: 106.7 The Fan - http://bit.ly/5yZqu8
Dave Johnson, Glenn Consor



Game Preview


The Washington Wizards (2-12) host the Denver Nuggets (10-5) as Washington looks to build momentum off of their big upset win of the Thunder on Wednesday night. The Wizards use a surprising combination of toughness, hustle, and energy to knock off the Thunder and end their 7 game winning streak.

Much of the same ingredients will be needed this evening if the Wizards want to get their first win streak (2!) of the season.

Wizards Extreme's matchup to watch is going to be Al Harrington vs. Andray Blatche. Harrington has been known to have some big games against the Wizards, so slowing him down from the start will be a key for Washington. Blatche displayed toughness going up against Kendrick Perkins earlier this week, and the coaching staff and fans alike will look for him to keep that up.

John Wall will have his hands full with the point guard combination of Ty Lawson and Andre Miller for the Nuggets. Both Miller and Lawson have been extremely effective for Denver. The past 3 games, Wall has been living up to the hype of the #1 overall pick. He has averaged 27.3 points, 7.3 rebounds, and 8.3 assists. He will need to maintain that aggressiveness he has shown recently to keep the Wizards in this game.

Washington needs to get out to an early start and keep the crowd in the game. If they show the same toughness and determination that they did against OKC, they may have a shot to start their own winning streak.

- Trevor Jackson

_________________



WE's to Watch





WE Spotlight






Nuggets' Projected Starting Lineup




Wizards' Projected Starting Lineup






Funniest Looking Nugget






Paying Homage








Proud Moment in Nuggets' History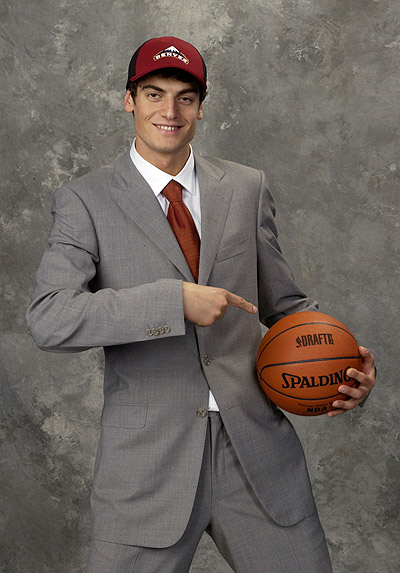 Nikoloz Tskitishvili, the 5th overall pick by the Denver Nuggets
in the 2002 NBA Draft



Friendly Dancers - Wizard Girls





Go Wizards!!!!!!