WE Preview: Wizards vs. Thunder - 1/18/12
AT




Wednesday, January 18th, 2012
7:00 PM ET
TV: Comcast SportsNet HD
Steve Buckhantz, Phil Chenier
Radio: 106.7 The Fan - http://bit.ly/5yZqu8
Dave Johnson, Glenn Consor



Game Preview


The Oklahoma City Thunder (12-2) come riding into DC on a 7 game win streak to face the Washington Wizards (1-12). Talk about two teams on the opposite end of the spectrum: The Thunder seem to be taking the league by storm, and are having difficulty losing. Washington's record speaks for itself.

If the Wizards do not come out shooting hot and bringing as much intensity as they have all year, this one could get ugly fast. The Thunder have the chemistry and team first attitude that the Wizards are lacking. They also have an established bench and solid role players, which the Wizards seem to be missing as well.

Wizards Extreme's matchup to watch this evening is going to be Chris Singleton vs. Kevin Durant. Singleton has been solid on defense all year for the Wizards, but will face his stiffest test of the season this evening. Kevin Durant has looked unstoppable, and all Singleton can do is try and disrupt his game and try to slow him down, if possible.

Another key matchup to watch is going to be Russell Westbrook vs. John Wall. Westbrook can score in a variety of ways, especially getting to the basket. Wall is going to have his hands full on the defensive end. John will look to keep the momentum rolling as he is coming off one of his best games as a pro (38 points, 6 rebounds, 8 assists, 4 steals). This should be an exciting pairing to keep an eye on.

James Harden will also be a key contributor for the Thunder and Washington will have to try and slow him down as well. He is averaging roughly 30 minutes a game coming off the bench for the Thunder. Harden is going to be in the running for 6th man of the year as he carries averages of 16.5 points, 4 rebounds, and 3.5 assists. His impact for the Thunder goes beyond the box score as well. I had the pleasure of seeing him play in person here in DC during the Goodman vs. Drew League game. Harden impressed on both ends of the floor. He brings a high basketball IQ and loads of toughness on both ends of the floor.

If Washington does not get out to an early start, this one could get out of hand quickly. They will need to be efficient and limit the turnovers during the all important first quarter where the tone will be set. If the Wizards can get the home crowd involved early, there could be a chance at a major upset.

- Trevor Jackson

_________________



WE's to Watch





WE Spotlight





Thunder Projected Starting Lineup




Wizards' Projected Starting Lineup






Funniest Looking Thunder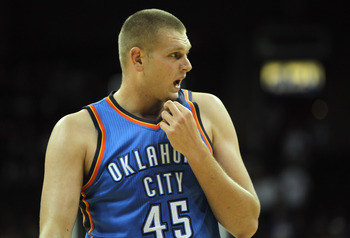 Paying Homage








Truly Proud Moment in Thunder History





Friendly Dancers - Wizard Girls






Go Wizards!!!!!!