THE STARTING FIVE: Blatche's return; The young forwards; Vesely's growth
Every week Wizards Extreme will feature 5 burning questions and their answers pertaining directly to the Washington Wizards and the current state they are in. This week's segment addresses the recent improvement in John Wall's game, Jordan Crawford's impact since Young has been out, the return of Dray, and youngins: Booker, Singleton and Vesely.

Today's feature includes responses from the Wizards Extreme's team –Chuck Lamar, Shaun Ahmad, Trevor Jackson, Mike Andrews, and Joe Glorioso.
John Wall is averaging 22.3 points, 5.1 rebounds, and 8.4 assists over the past 8 games. What do you attribute this to?
SHAUN: The Energizer bunny seems to be understanding the importance of slowing down just a bit. Wall has seemed much more controlled and is showing indications of understanding how to harness his speed versus when to kick it into fifth gear. This can't be easy to do, and you still see guys like Rajon Rondo and Russell Westbrook getting into trouble from time to time because of it. Speed is a great asset but can be a tremendous liability if not used properly and Wall seems to be comprehending that part of it. By knowing when to attack and when to maneuver around players and schemes to find the best possible shot, he's become more efficient and more effective. Hopefully, it continues.
TREVOR: Wall has been playing with much better control in recent games. He is always one of the fastest players on the court, but sometimes gets himself in trouble by getting out of control. By slowing things down, Wall seems to be letting the game come to him more which has helped him both in scoring and passing. His turnovers are still high, but that is expected when nearly ALL of the offense runs through one particular player. Another thing going for Wall recently is the fact that he is knocking down his jump shot. Combine that with the fact that certain teammates have been elevating their game recently, and you have the reason Wall has been on fire.
CHUCK: First off, he look as if he's finally got his condtioning together. Earlier in the season he seemed tired and out of shape, the results of an extended lockout. Also, the Randy Whitman hiring has had the team playing which with more passion and energy and that has clearly rubbed off on the young star. He is getting used to be THE GUY.
MIKE: I think the addition of Jordan Crawford has sparked some of John Wall's recent success. Crawford plays the fast-paced style of play that Wall is familiar with. So when you have one player that is performing at a higher level, it's going to rub off on other players. I also feel a lot of it has to do with him just being overall disgusted with the now eight wins. I've mentioned it before but Wall looks the most frustrated after a loss or during a game when the team is getting stomped. He's not used to this culture of losing, so I think that he feels like a lot of the weight is on his shoulders.
JOE: I think there are various factors that come into play with John's recent success but none are more important than the fact that the players around him are playing better. Over those last 10 games Wall has seen 6 games of 9 assists or better, with a 15 assist night coming in the first game post-all star break. If Wall had a sick knock-down shooter such as Kyle Korver, Steve Novak or how about anyone not on the Wizards current roster, we'd be talking about Wall being in the Top 5 in assists – where he is currently ranked 9th @ 7.6 apg. In those 10 games John is also logging close to 37 minutes p/game which means Coach Wittman is riding his star and you can only assume that someone is telling John to be more assertive on the offensive end. You don't have to be Hubie Brown to realize that those baskets John was leaving on the rim are either going in or he's getting foul calls to go his way now too.
Has Jordan Crawford earned the starting spot from Nick Young?
SHAUN: Crawford is an explosive scorer but scorers tend to have cold streaks too, especially when they don't have a reliable jumper. Crawford is too inconsistent to have earned the job for good, but he has for the immediate future. Whether that remains for the rest of the year is yet to be known. Young's lack of defense (effort) doesn't help his case. The new mantra of this team has been to give 100% effort on both ends of the floor. If Crawford can continue to take high percentage shots, not force up too many, and be respectable on defense, it's hard to see him losing his spot.
TREVOR: It does appear that way. Crawford has been surging in recent games, whereas Nick Young has taken a giant step back. It appears to me that we are watching the end of Nick Young's career here in Washington. Whether he is moved at the trade deadline, or parts via free agency, I think the front office has decided to go in another direction. Jordan Crawford has earned the increased playing time he has seen. Over the past 8 games, here are his averages: 21.8 points, 3.3 rebounds, 3 assists while shooting 52.8% from the floor and making 2.4 3's per game. Add in the fact that he is willing to pass (occasionally) and create offense for his teammates, and the Wizards are getting much better production and efficiency out of the guard spot. Crawford still needs to work on his shot selection, and I suspect he will cool off eventually, but the Wizards would be wise to ride him while they can.
CHUCK: You won't find a bigger Jordan Crawford hater than me. Although he has been on fire the last ten games, he's still taking awful shot and not playing within the offense. With that said, he has clearly wrestled the starting role away from Nick Young on productivity alone. While I can ridicule Crawford for his bad decision-making, it's not like Nick Young is the most cerebral player himself.
MIKE: Yes and no. Crawford, I feel, has performed much better than Young this season, especially since he is only a second-year player. He still takes some questionable shots, but there's no denying that when this kid gets hot, he's making everything. I feel he should not be in the starting lineup once Young recovers, however, because the Wizards need Young to still perform if they are planning on moving him at the end of the season. Young can play, too, but I feel that his time is finally up in DC and it's just inevitable that he will most likely be gone at the end of the season. So Washington needs to show the Association what they've got and get the best offer for him that they can.
JOE: I have a soft spot for Nick Young, and always have. More than likely this is because his personality makes him so easy to root for. That said, Nick gave up his spot more so than Crawford earned it. I've been quite hard on Craw all season long but tend to forget that he's only a 2nd year player. Although Jordan's numbers are down from last year – all the way around, there are two in particular that jump out at me. He's playing almost 9 ½ minutes less per game this year and is shooting a higher percentage from both 2pt and 3pt range. His minutes per game will obviously pick up as a result of Nick being out and he needs to capitalize on it because DMV odds on a return of Swaggy P for 2012-13 are at 1%. I'm good with his starting….as long as he's not trying to play PG.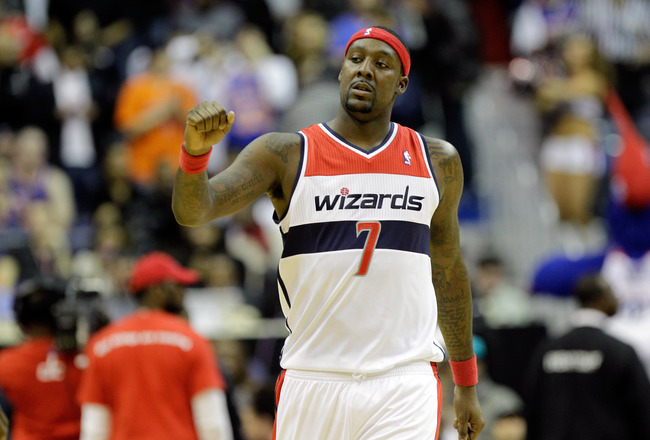 Blatche returned to the court over the weekend and grabbed 9 rebounds, do you feel any different about him?

SHAUN: No. The best thing that can happen is Blatche plays out of his mind and gets moved at the trade deadline. We've seen this movie before. He plays hard for stretches and then goes into a funk. This organization needs to rid itself of players that aren't buying into the system and aren't giving 100% night in and night out. That's the only way a true rebuild will work. Sheer talent and raw ability means nothing if the hard work and dedication isn't going into it. We have a pretty good sample size for Blatche that shows that he doesn't have the commitment to being the best at his position. A few good games won't change that.
TREVOR: This is generally Blatche's time to shine, right when we roll into the second half of the season, and the Wizards have no playoff hopes. That's when 7 Day Dray comes alive. I would not be surprised at all to see him become an effective contributor to the team down the stretch, even if it is in a bench role at both PF and C. My thoughts have not changed on Blatche, though. He needs to go. The fans know it, the organization knows it, and it sounds like he even knows it.
CHUCK: NOPE, TRADE HIM!!!
MIKE: No. He performed well, but the fans can't fall into another false sense of security with him. He's in this lineup for the same reason that I think Nick Young should continue to be. Throw him in, let him prove his worth to the other teams in the league, and move him. I don't care if from now until the trade deadline, he averages 30 points, 9 assists and 11 rebounds; the fans have seen what he does to this team, and he'll have his bright moments, but you better believe he's going to fall back into his cancerous style of play.
JOE: I'm probably one of five people left in the DMV whose last name is not Blatche that still cheers for this guy. I told Abdullah, Saam and Asad last week when he gets back into the lineup the Wizards will be a better team. So the answer to the question from me is no, I don't feel any differently because we are a better team with him on the floor – in shape. The guy had 9 rebounds and 5 assists in 20 minutes of play after missing a month with a (cough, cough) calf injury. Do you know the last time a Wizards big man had 5 assists in 1 game this year? Saturday night was it. I'll say it again…this is a better team when 7 day Dray is on the floor – in shape.

What are your thoughts on the young forward combination of Trevor Booker and Chris Singleton moving forward?


SHAUN: Both players go out on the court and play extremely hard. That can't be understated. I can't recall a point in the season so far where I saw either one of the two dogging it. Booker is starter material. He has played well on both ends of the floor and has been consistent. Singleton seems to be more of a sixth man, defensive specialist and hustle guy - which is fine. Every team needs a spark off the bench. The Wizards need as many players that they can get who are willing to do the little things that lead to victories. Booker and Singleton fit that mold and can serve as positive building blocks to surround Wall.
TREVOR: Booker and Singleton look like they can be solid contributors to the team in years to come. Both players bring hustle, toughness, and unlimited energy when they are on the floor. They are both disruptive on the defensive end, and play within the team concept on the offensive end. Booker has shown he can get the job down in a starting role, and also coming off the bench. I think moving forward, once this teams gets a go-to low post scorer, Booker will be the perfect back PF. Singleton started off the season on a very high note, but seemed to hit the rookie wall very early. He has shown plenty of promise though with his defensive abilities. He also has developed a decent outside shot, and refining that shot should be a key thing for him to work on in the offseason. Due to the offensive limitations of this current Wizards team, Singleton stands out. If this team were to add some more serious offensive weapons, Singleton would be able to fall into a role that more suits his game .
CHUCK: Trevor Booker plays harder than anyone on the Wizards. Chris Singleton reminds me of Trevor Booker last season, tons of athleticism and effort but still very raw offensively. The good news is that Booker made strides offensively, here's to Singleton doing the same.
MIKE: I love it. Maybe I'm over-optimistic, but it reminds me in a way of Oklahoma City. These two are gritty, hard-working players, much like Durant and Westbrook before they got big. They're both very young and they're proving worthy of a starting spot on not just the Washington roster, but they would fit in the starting rotation on many other teams, as well. Washington needs to hold onto these guys, because in a year or two, I would expect to see their jerseys selling just as well as John Wall's in the team shop. A lot of teams seem to be intimidated by Singleton's defense and Booker's size. Once these guys get a few years in the league, I don't find it hard to believe that they will be on that All-Star ballot and most likely in the game itself.
JOE: I'm a big fan of both these young guys. I've been on the Booker bandwagon since last year and I really do think he's a guy that can give you close to 30 minutes a night from the starting spot. Singleton to me is a little dicier. I'd rather see more minutes for Vesely but I think Jan is a casualty of the lockout and will see more and more minutes as the season progresses. Back to Chris, I love that he can spread the floor and keep his defender honest with that 3pt shot but would love to see some more of those defensive hustle plays that had fans raving about him after the first few games.

What do you expect out of Jan Vesely for the remainder of the season? What improvement would you like to see?
SHAUN: Vesely can't shoot, so, I'd like to see him improve that part of his game. He has nowhere to go but up in that regard. He plays with a lot of energy, which is great, but similar to Wall, he needs to become a little bit more controlled in his efforts. While his raw talent and high energy play was good enough to get him drafted into the NBA, it isn't enough to make him a consistent and dependable starter. He will need to become a threat to score and raise his basketball I.Q. to be able to earn consistent minutes. This isn't a knock on him, as he's only a rookie and it's part of the learning curve. If he begins to show small improvements in all aspects of his game for the remainder of the season, I think we'll finally be moving towards identifying a good young nucleus for years to come.
TREVOR: For the remainder of the season, I expect more of the same out of Vesely. He will continue to play anywhere from 15-25 minutes per game. I expect him to continue playing solid defense, and getting his offense on put backs and dunks. The first thing I would like to see Vesely improve on is CATCHING THE BALL. Vesely seems to have a case of the butter fingers. The obvious improvement he needs to make is on the offensive end. Hopefully the Wizards will secure him a shooting coach for the off-season, and he can work on a few go to moves. He also needs to log some serious time in the weight room.
CHUCK: I'd like to see him develop a jumpshot, and become more aggressive. It seems as if Vesely overthinks the game sometimes and doesn't just play. He is a disruption on the defensive en, I dont want to heap to much pressure of the young fella, i i just hope for continued development.
MIKE: He's a work in progress. I'd like to see him keep getting minutes so he can adjust to the American style of basketball. It's obvious he's got talent, it's just knowing where to exploit that talent that seems to be the issue for Washington. A full off-season of training and lifting will really help Vesely, since he did not get a chance to do much this past off-season due to the lockout. I don't forsee him being a superstar in this league, but I do see him being a very solid sixth-man on the Wizards' roster. I don't think he'll perform well for the rest of the season, but that's okay with me. I'm even okay with him going to the D-League to get some time in there in a league with much less pressure.
JOE: As I said above, I believe Vesely was a casualty of the lockout. Whereas his two draft-mates – Singleton and Mack had the benefit of playing in March Madness and at a high level, followed by countless Summer League games, you can only help but think Vesely was balling it up with some guys we've never heard of and former Ernie Grunfeld 2nd round pick Vladimir Veremeenko. It's going to take Jan some time to figure out this league and I don't think he will ever turn into a "go-to" scoring machine but if he can improve his shooting from outside of 5 feet; his basketball smarts, leaping ability, hustle up and down the court and energy are going to be a huge asset to the Wizards for years to come.