WE Recap - Wizards vs Blazers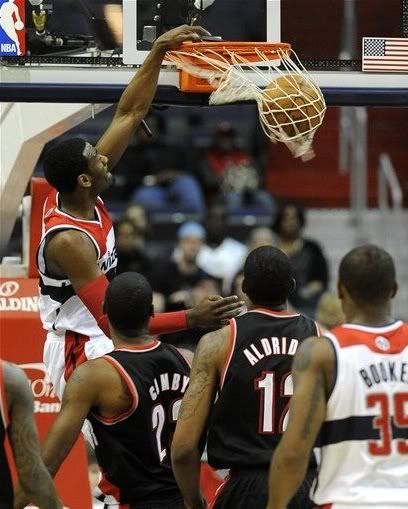 | | | | | | |
| --- | --- | --- | --- | --- | --- |
| | 1 | 2 | 3 | 4 | FINAL |
| Wizards | 27 | 25 | 24 | 23 | 99 |
| Blazers | 27 | 28 | 27 | 28 | 110 |



Top Performers

Wizards

Blazers

John Wall

PTS

25

LaMarcus Aldridge

PTS

30

Trevor Booker

REB

10

LaMarcus Aldridge

REB

10

John Wall

AST

8

Felton/Crawford

AST

5

3 Tied

STL

1

Raymond Felton

STL

2

Trevor Booker

BLK

1

Aldridge/Wallace

BLK

2

Trevor Booker

TO

3

Crawford/Batum

TO

2

Kevin Seraphin

+/-

-0-

LaMarcus Aldridge

+/-

+12
Wizards Player of the Game
Not many options to chose from in the game. Wizards player of the game goes to John Wall. Wall finished with 25 points, 4 rebounds, and somehow totalled 8 while his SG rotation of Crawford and Young shot 7 of 29.
WE's to Watch/WE Spotlight
LaMarcus Aldridge - LaMarcus Aldridge showed why he is a first time all-star, posting a solid 30 points and 10 rebounds while shooting 12 of 15 from the floor. He outsized and outplayed any opponent the Wizards threw at him. He proved to be the x-factor, as the Wizards beat Portland less than a month ago when Aldridge stepped on Booker's foot a minute and a half into the game and did not return. Tonight in DC, he was back and made up for missed time.
Trevor Booker - Booker only attempted 5 shots as opposed to 15 for Aldridge. He was undersized matching up with Aldridge all night. NBA.com lists Booker at 6'8 and Aldridge at 6'11. Booker still showed hustle and toughness grabbing 10 rebounds in 33 minutes, but he could not match up with Aldridge's size and scoring ability.
The Good
Points in the paint - Even with the big game of all-star LaMarcus Aldridge, the Wizards (23/40) outscored the Blazers (20/34) by a count of 46 to 40 in the paint.
The Bad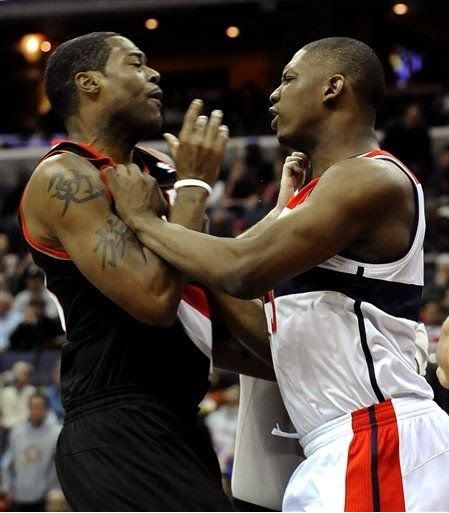 Seraphin vs. Camby -- Marcus Camby received a Flagrant 2 and was ejected for shoving Kevin Seraphin late in the 2nd quarter. Seraphin took offense as you can tell from the photo above and received a technical foul for retaliating. Seraphin went on to make both free throws from the original foul, while Camby went to watch the rest of the game in the locker room.
The Ugly
The Wave invaded the Verizon Center

Coach Randy Wittman Post Game Media
Wizards vs Blazers Highlights courtesy @CSNWashington