Wiz Kids "Shock" Kobe and Co.
If I told you that John Wall scored only 4 points on 13 percent shooting, or that the Wizards' shooting guards (excluding Roger Mason Jr.) combined for only 13 of 38 shots, or that Kobe Bryant finished with 30 points while Andrew Bynum and Pau Gasol each had 19, or perhaps that the Lakers owned a 21 point lead in the third quarter…..yet the Wizards still beat the Lakers, what would you say?
You'd probably just stare at me blankly. And then you'd slap me.
Now pretend I told you none of that and I began the conversation with this instead: Trevor Booker had 18 points and 17 boards including 8 offensive rebounds, Kevin Seraphin missed only one of his eight shots, Roger Mason, Jr. hit four 3's, and Nick Young had six, count 'em, SIX assists…and the Wizards beat the Lakers. Then what?
You'd probably say that it was a great effort by the bench, but still, too much Kobe on Nick, too much Bynum on Seraphin and too much momentum for L.A. playing in front of a crowd that was roughly 60 percent in their favor.
And then you'd slap me.
Well, folks, get your baby powder ready because this is exactly what I am telling you. The Wizards did indeed overcome a 21 point deficit and they did beat yet another Western conference contender.
But the bench wasn't just a key factor in last night's implausible victory, they were the factor.
With most of the starters, led by Wall, in a complete funk, and the Wizards spiraling into what seemed to be a lopsided defeat, coach Randy Wittman's "B Squad" stepped in and said "hold up, we got this."
Lead by a front court of Booker and Seraphin, along with Mason, Young and Shelvin Mack, the Wizards overcame improbable bounds as their second unit outdueled the Lakers reserves, steadily narrowing the margin to single digits before eventually taking the lead in the fourth.
Booker was literally EVERYWHERE. His presence down low and on the perimeter was nearly dominant. He hit 7 of his 9 shots. His incredible hustle, especially on the offensive glass created extra possessions. His defense created tough spots in the paint for Bynum and Gasol.
A friend of mine, who's a die-hard Kobe fan (making him a tentatively die-hard Lakers fan) said the Lakers made Booker look like Shawn Kemp. That's a pretty solid comparison if you're not referencing the lack of condom use and chronic weight gain.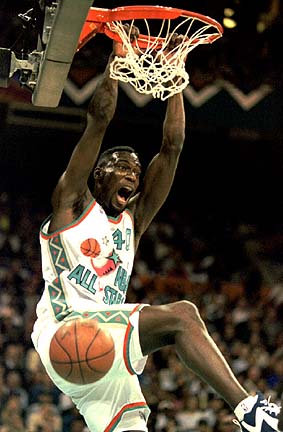 You simply can't say enough about Kevin Seraphin and the way he attacked the Lakers' front court.
"He banged against Bynum pretty well; it was his best game," coach Wittman said.
In just 25 minutes of burn, Seraphin hit all but one of his eight shots, while grabbing 9 boards including 4 off the offensive glass. He finished with 14.
The Lakers' underachieving bench was clearly exposed, getting outscored 55-21 and set the tone for the Washington's dominating second half attack.
It also justified the 31 shots chucked up by Kobe, who seemed clearly disgruntled during the post-game interview as he disclaimed prior to speaking that he was only going to give "one word answers."
His one word answer when asked how he felt about the Wizards comeback: "shocked."
Check out last night's post-game interviews
Video edited by Roni B. @BBallWiz330