Will the Real JaVale McGee Please Stand Up?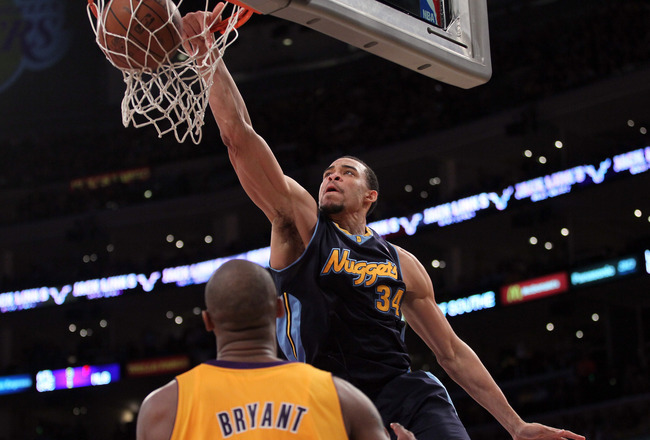 One of my buddies called me late last night and asked if I was watching the Lakers -Nuggets game. He wanted to know how I felt about JaVale McGee blossoming before my eyes. I told him I wasn't watching and as far as JaVale blossoming I'll believe it when I see it.
After the Nuggets won game 3 and McGee put in 16 points and 15 rebounds, I received the "I told you so" calls. Then he followed it up with a pedestrian 8 point-4 rebound performance. Anyone who has followed JaVale over his NBA career should have learned to not put too much stock in his "Wow Games", for he will surely make you rue the day.
The Nuggets are down 3 games to 2 against the Lakers. In the two Nuggets wins JaVale has averaged 18.5 points per game and 14.5 rebounds per game. Those numbers are impressive to say the least, but before you start thinking the Nuggets fleeced the Wizards let's take a look at his numbers in the three losses: Without a significant drop in minutes, JaVale has averaged 5 points per game and 6.3 rebounds in the three losses. That's the drop off in performance from McGee that Wizards fans are used to.
Wizards fans will tell you that the JaVale McGee from last night's win versus the Lakers was a mirage, a teaser of the potential that will never be reached. They will speak of the hope and promise the young 7- footer showed during his tenure with the Wizards, only to revert back to his selfish and immature ways.
His mother will argue that this is the man child who is the future of the NBA. I'm not saying he's a lost cause or the superstar I once thought he'd be, the truth lies somewhere in the middle.
The truth of the matter is that in Denver he is coming off of the bench and playing his role pretty well but JaVale is coming into free agency this offseason and is hoping to get paid like a starter and future all-star. He wants to be known for more than the never-ending blooper reels that he has accumulated. We will see the true measure of Javale when he gets paid and some team hands him the keys to the franchise….I'm just glad it won't be my team.