Wizards Motto for 2012: "He Hate Me"
Are you tired of hoping against hope? Tired of ever looking through rose colored glasses only to remove them and be sorely disappointed? Are you tired of seeing the silver lining in a leaden gray cloud? Then you might be a Washington Wizard fan.
As Wizards fans dream of an eighth seed and a return to the playoffs -- a year before expected -- it seems as if WE're the only ones who seem to think that's a real possibility. Even though we have become accustomed to the derision of the national and local media, it's getting a little old.

As the NBA season finally descends upon us, expectations for the Wizards are all over the board. In
the latest edition of ESPN the Magazine, they predict the Wizards will finish 13th in the East. Basketball Prospectus projects the Wizards finish with a record of 24.1-57.9 and have a 0% "Playoff likelihood". None of the betting sites are giving the Wizards a punchers chance either. As Rodney Dangerfield famously said: "we get no respect".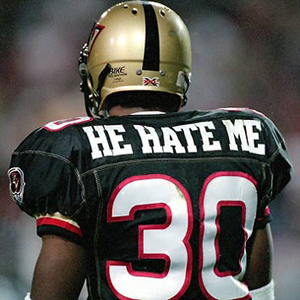 I am fully aware of the Wizards record last season. I am fully aware of the Wizards redheaded stepchild status amongst the major DC sports teams. But I am also fully aware of how different this team is than last year's. Just take a look at the Wizards website. There hasn't been this much fan involvement and excitement surrounding the Wizards in quite awhile. Although I can go through the litany of reasons why this team is so much better than last year's squad or why the playoffs are a realistic and legitimate goal, I feel like WE can show you better than WE can tell you. I'm ready for the Wizards and John Wall specifically to quiet all of the critics.
This year Washington Wizard fans need to channel their inner Rod Smart this season. Who's Rod Smart, you ask? Rod Smart was a running back in the now defunct XFL who eventually worked himself onto several NFL rosters. Why am I talking about Smart? Because Smart was best known for the iconic moniker "He Hate Me", an ode to everyone who never gave him a chance. So that's my motto for the Wizard's upcoming season. To all the doubters, skeptics, and non-believers...and there are a ton: HE HATE ME!!!