Wiz Kids Drop to 0-7 After Loss to Knicks
It was a different game, but the same result for the Washington Wizards as their endless road to victory continued last night against the New York Knicks. The Wizards dropped their 7th straight to start the season in a 99-96 defeat, making them the only team with a donut in the win column.

A players-only team meeting held earlier this week by veteran Maurice Evans seemed to have the players fired up and energetic throughout the night, a vast difference from the horrendous display of effort they showed in their previoius game against the Orlando Magic..
The Wizards came out the gates strong, as 22 combined points by John Wall and Nick Young, along with aggressive defense helped the Wizards jump to a 14 point lead by the end of the first.

The Wizards continued to attack in the second quarter scoring in transition and on fast breaks, but unfortunately, dejavu from opening night eventually kicked in and doomed the Wizards as the huge lead squandered down to 1, thanks to turnovers and poor shot selection.

The Wizards continued their downward spiral in the third quarter as New York's Big 3 in Melo, Stoudemire and Tyson Chandler turned it up for the Knicks, putting them up by as many as 9.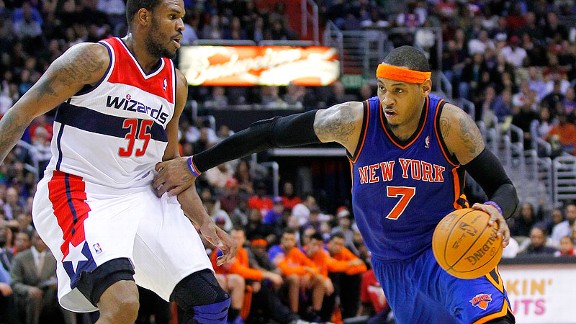 Rashard Lewis had an incredibly lackluster performance, shooting terribly and committing several turnovers, earning him a spot on the bench for the rest of the night.
The team overall committed 23 turnovers leading to 27 points for the Knicks.
"There were two things that hurt us tonight – points off turnovers and we shot 61 percent from the free throw line," coach Flip Saunders said following the game.
Lewis' replacement, rookie Chris Singleton, stepped in and continued to show the coaches and fans his value, just as he has all season. Singleton finished with 12 points including 2-3 from the 3 point line, 7 boards, 3 steals and 2 blocks. Can you say starting lineup?
The Knicks opened up the 4th quarter on a 6-0 run to take the lead at 73-72. A key three pointer by Mike Bibby, combined with a LOT of Carmelo Anthony had the Wizards in hard fought battle in the final quarter.
Four lead changes, plus a dazzling performance by John Wall had the Verizon Center as loud as it had been since the playoffs a few years ago, until Melo became the party pooper with a 3 pointer with 15 seconds remaining to put the Knicks up by 2.
The Wizards had one final chance with 2.8 seconds remaining but a good look from 3 fell short by Nick Young, sealing the Wizards fate.
JOHN WALL POST GAME:
CARMELO ANTHONY POST GAME: